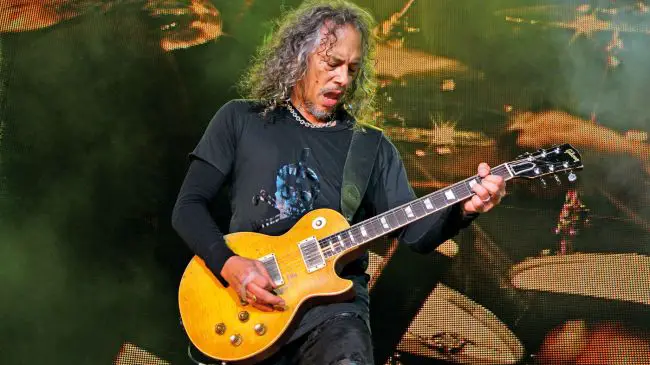 METALLICA guitarist Kirk Hammett has released first single of his upcoming debut solo EP in the form of "High Plains Drifter."
The track opens the second side of Portals, Kirk's four-song EP, which will arrive on April 23 via Blackened Recordings across digital platforms, on CD, and as a Record Store Day-exclusive ocean blue vinyl EP (including a download card).
Featuring contributions from Edwin Outwater (with whom Kirk had previously collaborated on METALLICA's S&M² concerts and releases), Jon Theodore of QUEENS OF THE STONE AGE (and Kirk's THE WEDDING BAND bandmate), members of the LA Philharmonic and more, "High Plains Drifter" shares a unique inspirational relationship with the 1973 cinematic classic of the same name. The song, Kirk explains, "was not meant to be specifically music for that film, but it was once it was written, I immediately thought it conveyed the same sentiment as the film, so the piece was christened accordingly.
"The music for 'High Plains Drifter' initially came from a flamenco piece I had written," Kirk continues. "It was a two-and-a-half-minute piece, and I really liked it, but it was one of those riffs that would be hard to integrate into METALLICA. I knew I wanted to do something with it, even though it came out spontaneously. I had been sitting outside messing around with a flamenco acoustic guitar I'd just bought, and it flowed out in the moment. I was determined it would have a life. It would have its moment."
True to its title, Portals is a collection of gateways to musical and psychic destinations. Recorded around the world, from Los Angeles to Paris to Oahu, Portals is the result of Kirk's life's journeys and an invitation to tap into your own inner world. Heavily influenced by classical music, soundtracks, horror movies, and maybe a little Ennio Morricone, Kirk wanted the EP to span the decades and touch upon all the horror he loves. The idea behind the EP was to have all the songs flow into each other, so he relied on a whole cast of his friends to record the four songs.