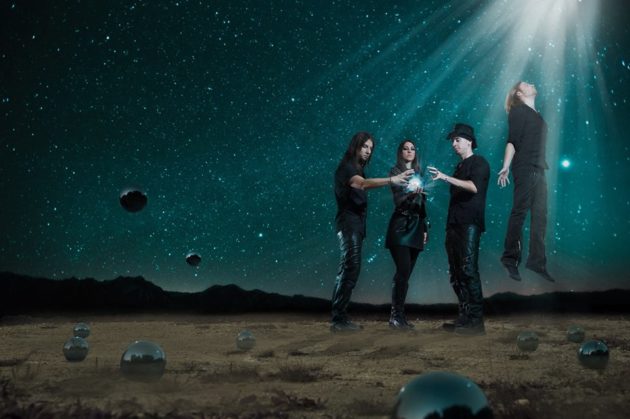 Slovenian heavy metal band METALSTEEL just released a music video for "The End Of The World" from their new full-length studio album entitled "Beyond The Stars" which dropped on December 9th, 2017 via On Parole Productions. Music video can be seen below.
METALSTEEL is a Slovenian heavy metal institution with its own identity which combines raw aggression with melodic and progressive structures. Their striking metal is manifested on seven albums including their latest most fierce and sophisticated release "Beyond The Stars" which is a conceptual album. The concept is about Extraterrestrial civilisations who descended on Earth in order to rise the spiritual awareness of mankind and interfere in the process of humanity's evolution.
"Beyond The Stars" is the seventh album from the band. It pushes further the boundaries of the band and opens new chapter in their musical opus. All members of the band have recorded the album simultaneously, resulting in an organic sound that is consistently embedded into modern production. METALSTEEL  are combining raw aggression with melodic arrangements. This forms homogenous mixture of striking metal with progressive elements and guitar and vocal harmonies. "Beyond The Stars"  combines simplicity and technical perfection with the recording method rarely used these days and superb production.
In their career they have played numerous shows in Europe and also performed with James Rivera (Helstar, Distant Thunder, Malice). They have also shared the stage with legendary metal acts such as Saxon, W.A.S.P., Helloween etc.
METALSTEEL   are also the first Slovenian metal band who performed with Slovenian symphony orchestra and choir, performed for the Slovenian victims of Holocaust and appeared in Toyota commercial along with their own song. They have also written and recorded the official anthem for the MetalDays Festival in 2015.
"Beyond The Stars"  track listing:
01. Lama Rabi Alardi Dini Endavur Esa Kunis Alim
02. Transhuman
03. Anu
04. Council Of 9
05. Stargods
06. Beyond The Stars
07. Vrillon
08. Materialist No More
09. Astral Traveller
10. The End Of The World
Line-up:
Beni Kic – vocals, guitars
Rok Tomšič – guitars
Matej Sušnik – bass
Daša Trampuš – drums