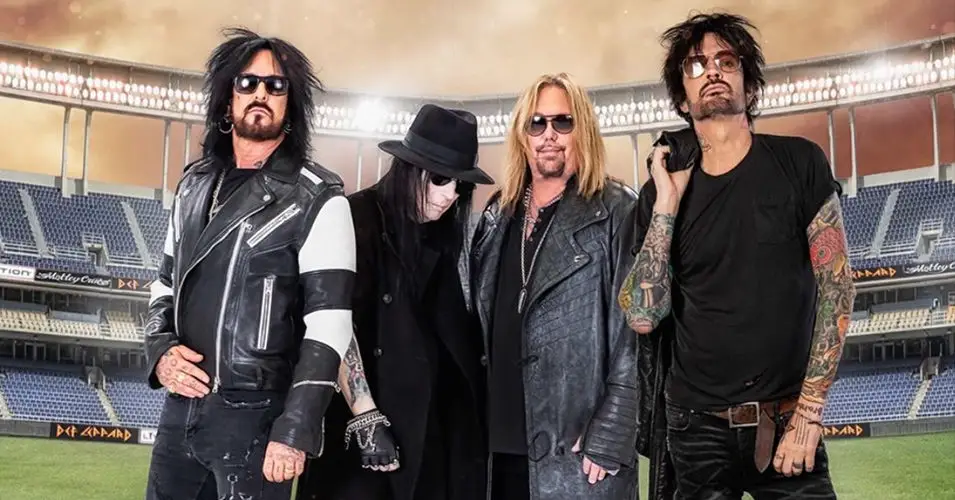 MÖTLEY CRÜE's long-awaited "The Stadium Tour" with DEF LEPPARD, POISON and JOAN JETT & THE BLACKHEARTS will close on September 9 at Allegiant Stadium in Las Vegas, Nevada — instead of September 7 at Oracle Park in San Francisco, California — which was previously scheduled, Las Vegas Review-Journal reports.
During a recent appearance on SiriusXM's "Trunk Nation With Eddie Trunk," DEF LEPPARD drummer Rick Allen spoke about the band's long-awaited "The Stadium Tour."
When asked if "The Stadium Tour" will finally take place this year, Allen responded: "For sure. I think now we're getting to the point where people can be safe, people can be safe enough. I think the way concerts are being run these days, there's no reason why we can't go forward. But it's a moving target. So let's just hope we're on track."
Nikki Sixx recently said that MÖTLEY CRÜE are still on track to finally launch its long-awaited reunion this year. The bassist addressed the status of "The Stadium Tour" while answering a fan question on Twitter. Responding to a fan who wrote, "I'm hopefully going to see The Crue in Houston Tx Aug 2022!", Sixx said, "We 100% plan on touring in 2022. See ya at the show."
When it happens, "The Stadium Tour" will mark the CRÜE's first live dates since wrapping its 2014/2015 farewell tour. CRÜE toured with POISON back in 2011 and DEF LEPPARD teamed up with POISON for a string of road dates in 2017, but the upcoming jaunt marks the first time all four acts — including JOAN JETT & THE BLACKHEARTS — have hit the road together for an extended tour.
Dates and tickets for the tour can be found here.