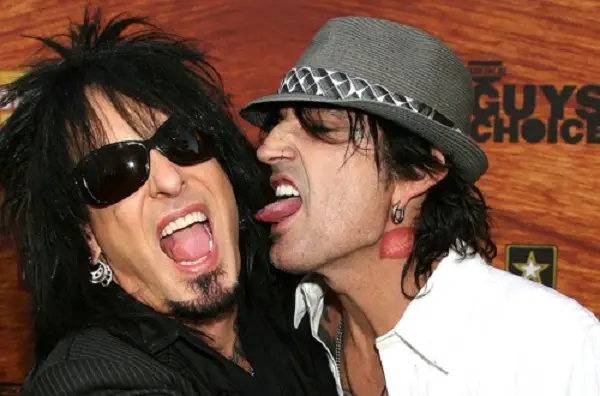 MÖTLEY CRÜE bassist Nikki Sixx has praised drummer Tommy Lee for performing several songs of the band's set Thursday (June 16) in Atlanta, Georgia despite sustaining four broken ribs a couple of weeks ago.
Lee defied doctor's orders to take part in CRÜE's opening night of the reunited group's stadium tour with DEF LEPPARD, POISON and JOAN JETT & THE BLACKHEARTS.
"The fact that Tommy was told by the doctor to not play with 4 broken ribs & he beasted half our show is a miracle," Nikki wrote on Twitter. "We are a band and are proud of his strength. He is doing the whole tour and day by day adding more songs. What a f*cking animal. Anybody out there ever break ur ribs?"
Lee played the first five songs of CRÜE's set before addressing the crowd. "We did it! You did it. We did it. We're f*cking here. Two and a half years.
"Okay, well, anyway, what I've gotta tell you is about 14 days ago, I f*ckin' broke not one, not two, not three, but four f*ckin' ribs right here.
"I wish I had a f*ckin' badass story, like me and Connor McGregor f*ckin' scrapping out in some f*ckin' bar or something. But I don't. Anyway, I hope you guys have a f*cking great time," he added before introducing OZZY OSBOURNE/BLACK SABBATH drummer Tommy Clufetos, who took over for Lee for the remainder of the set.
"My boy Tommy Clufetos back here, he's gonna help me get through this," Lee added. "'Cause the doctors told me, 'No playing, bro. No playing.' And I was like, 'Are you f*cking high, bro? We've got a f*cking tour to do.' So anyway, I ain't f*ckin' sitting out for sh*t. My boy's gonna help me out here, and I'll see you guys later. On with the goddamn show."