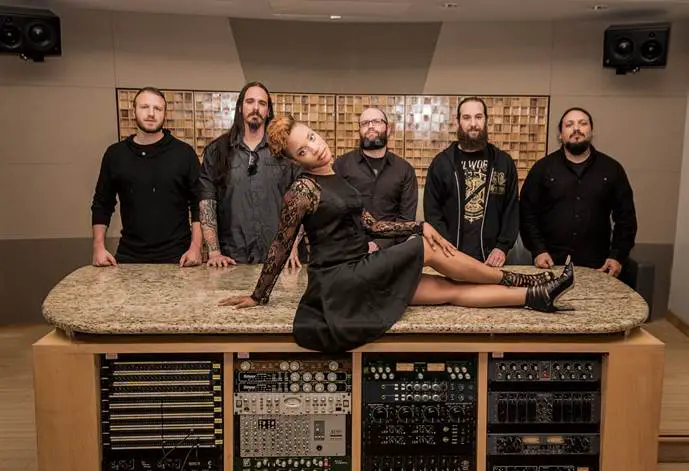 Houston's OCEANS OF SLUMBER have unveiled a brand new video for "Sunlight" which comes from their full length label debut, "Winter", released earlier this year.
Filmed in a studio while the band performs the song, "Sunlight" perfectly reflects OCEANS OF SLUMBER's raw ethereal power radiating from the studio to the stage.
You can watch "Sunlight" video below.
On September 29th, OCEANS OF SLUMBER joins the "Spinning Wheel Ritual" tour featuring ENSLAVED. Tour dates will also include two Euroblast Festival appearances (feat. Intronaut, Port Noir and more) in addition to select show dates with Ne Obliviscaris. You can see upcoming tour dates below.
8 out of 10 live review in Metal Hammer UK for their My Dying Bride support show:
"This is the first time OCEANS OF SLUMBER have played in the UK, and despite an initial lack of guitars through the PA, they could hardly do much more to win over a potentially partisan audience. Singer Cammie Gilbert is a star (albeit one who could do with speaking a bit more loudly and clearly between songs) and her bandmates' prog metal explorations provide her with a vivid and dramatic backdrop. From a surging Winter to a final, spinetingling reading of Nights In White Satin, this is a triumphant first foray on these shores. They will be back and you won't want to miss them." – Dom Lawson."
OCEANS OF SLUMBER live:
29.09.2016 Aarau (Switzerland) – KiFF (with Enslaved)
30.09.2016 Stuttgart (Germany) – Club Cann (with Enslaved)
01.10.2016 Cologne (Germany) – Euroblast Festival (with Intronaut, Port Noir and more)
02.10.2016 Cologne (Germany) – Euroblast Festival (with Intronaut, Port Noir and more)
03.10.2016 London (UK) – The Dome (with Ne Obliviscaris)
04.10.2016 Oxford (UK) – O2 Academy 2 (with Ne Obliviscaris)
05.10.2016 Liverpool (UK) – Arts Club (with Ne Obliviscaris)
06.10.2016 Glasgow (UK) – O2 ABC2 (with Ne Obliviscaris)
07.10.2016 Manchester (UK) – Rebellion (with Ne Obliviscaris)
09.10.2016 Dublin (Ireland) – On The Rox (with Ne Obliviscaris)
15.10.2016 Berlin (Germany) – Bi Nuu (with Enslaved)
16.10.2016 Warsaw (Poland) – Progresja (with Enslaved)
17.10.2016 Wroclaw (Poland) – Firlej (with Enslaved)
18.10.2016 Prague (Czech Republic) – Nova Chelmnice (with Enslaved)
19.10.2016 Munich (Germany) – Backstage (with Enslaved)
20.10.2016 Vienna (Austria) – Szene (with Enslaved)
22.10.2016 Brasov (Romania) – Club Rockstadt (with Enslaved)
24.10.2016 Ljubljana (Slovenia) – Kino Siska (with Enslaved)
26.10.2016 Ravenna (Italy) – Bronson (with Enslaved)
27.10.2016 Rome (Italy) – Traffic (with Enslaved)
28.10.2016 Brescia (Italy) – Circolo Colony (with Enslaved)
29.10.2016 Pennes Mirabeau (France) – Jas'rod (with Enslaved)
02.11.2016 Toulouse (France) – Metronum (with Enslaved)
03.11.2016 Rennes (France) – Antipode (with Enslaved)
04.11.2016 Paris (France) – Divan du Monde (with Enslaved)
05.11.2016 Leeds (UK) – Damnation Festival
09.11.2016 Hannover (Germany) – Musikzentrum (with Enslaved)
10.11.2016 Dresden (Germany) – Beatpol (with Enslaved)