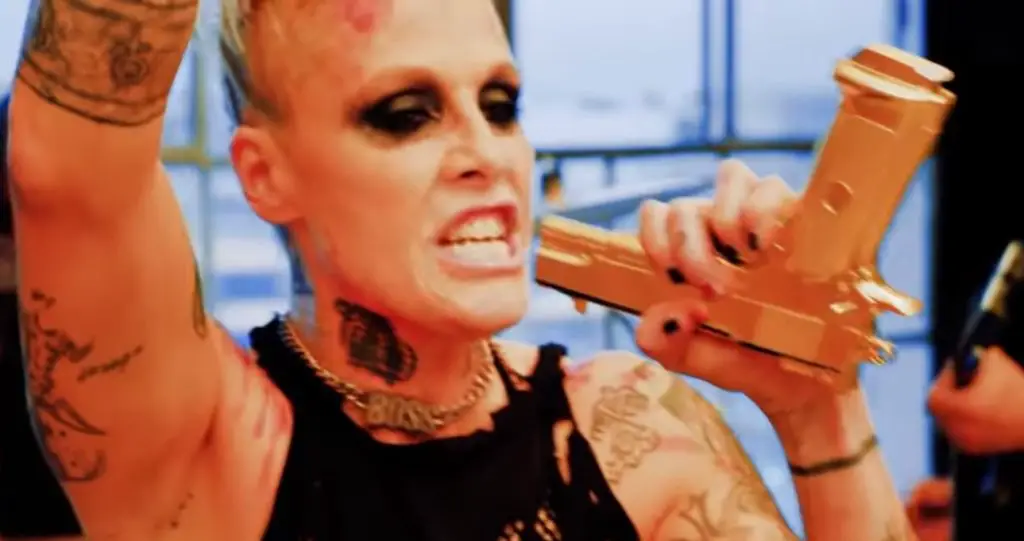 Just over one week ago, OTEP, the band led by singer, poet, illustrator, author and activist Otep Shamaya, unleashed its most uncompromising, candid, all-inclusive and controversial assessment of the current residing political regime that it has ever released — the new album "Kult 45". Today, it has released a shocking new music video — pointing a finger at the NRAand their allowance of continued gun violence — for the single "Shelter In Place". The clip, directed by Otep and filmed by PR Brown, can be viewed below.
Shamaya says: "The video for 'Shelter In Place' challenges the NRA's irrational claim that 'only a good guy with a gun can stop a bad guy with a gun.' It aims the blame of mass murders of our children in school shootings directly on the NRA, not necessarily its members, but the administration who continue to fight for people on terrorist watch lists to own a gun. Why? It's my belief the more murders that occur, the more money they make from weapons manufacturers and increases in membership which strengthens their ability to be a political power that continues to frighten the Republican-owned Congress.
"The number of mass murders of children in schools by gun violence is our national shame yet the Republican-owned Congress (and shills for the NRA) have done nothing, not a single thing, to protect our kids. In contrast, when one man attempted to detonate a shoe bomb on board a plane in flight, legislation was enacted to protect people from this single attempt of failed terrorism. Now all of us have to remove our shoes before boarding a flight. All of us have to be searched and x-rayed.
"Enough is enough. Our children deserve better. And their safety and the safety of their teachers are worth fighting for."
Throughout the span of her career, Shamaya has been an undeniable force in bringing awareness via various acclaimed mediums to social and political injustices felt by various communities and subcultures. For years, publications such as Revolver magazine have lauded Shamaya for "following in the footsteps of outspoken musicians from folk singer Woody Guthrie to RAGE AGAINST THE MACHINE's Zach de la Rocha, dubbing her "one of music's catalysts for social change". So, with the political climate as it is today, it's prime time for OTEP to make their voices heard in their primary medium — song.
"You can expect a complete and total mutiny of the senses on 'Kult 45'," says Shamaya. "That said, it's important for fans to know that this record is not just an indictment of Trump. The idea is rather to empower people to stand up and remind them this is our country and we have the power. It's primarily a rallying cry for people with common sense and good-natured patriots to rise up and know that we own this nation.
"Although the album is produced well technically, lyrically, it's very raw," she continues. "Musically, we explore different genres — we're trying to reach everyone. I don't want to be limited to one genre or to be anchored to a particular space where I can only reach certain political minds. It's important to me that I'm sending a clear and concise message to the Resistance — the people out there bending the barricades and fighting for justice is this country."