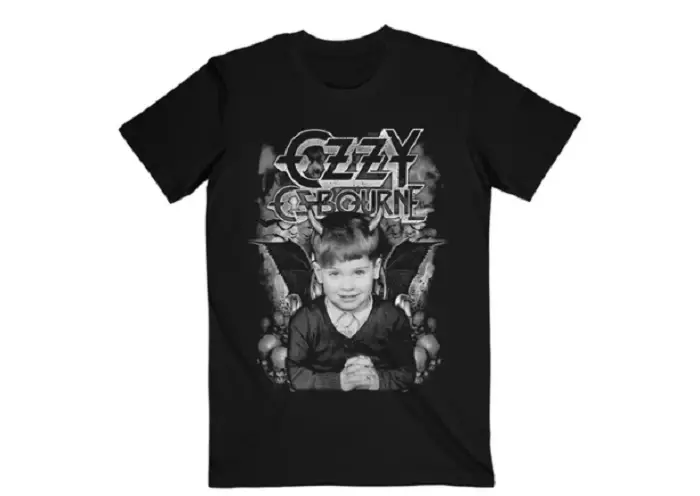 Ozzy Osbourne's official store has been updated with "Young Ozzy Tee" featuring a baby photo of Ozzy complete with the Ozzy Osbourne logo.
T-shirt is available for purchase at official Ozzy store at this location.
During a recent interview with GQ Magazine,
Ozzy revealed that he suffers from a respiratory disease which puts him at an increased risk of severe pneumonia and poor outcomes if he was to develop COVID-19.
I've got emphysema, so if I get this virus, I'm f*cked." Ozzy says.
When asked how his health is at the moment, 'Prince of Darkness' responded: "The surgery I had knocked the crap out of me. But I broke my neck in a quad bike accident [in 2003] and when that healed it squeezed my spinal column, so I was getting all kinds of weird things happening to me.
"I'd be on stage and I'd suddenly get a sharp shock down one side of my body. Then one night 18 months ago I went to the bathroom in the dark and just hit the ground. I said [to my wife], 'Sharon, I'm on the floor,' and she said, 'Well, get up then!' But I couldn't. Once you're 70, the floodgates open and everything goes downhill. Mind you, I've got away with it for a long time."
"If I go out, I wear a mask, but I don't like wearing a mask, so I don't go out much," Ozzy continued. "The producer on my album [Andrew Watt] got the virus. I'd phone him up every day and he said he couldn't sleep, because as soon as he went to sleep, he'd stop breathing. He's not the same person now… It's like anyone who's had a near-death experience: he's become a bit careful with life. But my two granddaughters caught it and you wouldn't think they had anything wrong with them. It just bounced off them."
Aimée Osbourne recently provided an update on her parents — Ozzy and Sharon Osbourne — biopic, saying that they are "getting ready to start casting."
Ozzy Osbourne is one of the most controversial and divisive musicians ever. Whether it be his antics on and off the stage or the numerous controversies he's been involved in with respect to his personal life, the 'Prince of Darkness' has always been in the spotlight for some reason or the other. He remains immensely popular though, and thus it is no surprise to learn that there is a movie being planned on the BLACK SABBATH frontman and his wife, Sharon Osbourne, and the crazy life they have lived.
At present, the biopic is likely to focus on Ozzy and Sharon's early lives, their childhood, and the first few years of their marriage. Sharon had confirmed these details in an interview with Variety magazine back in January, when she said that it was basically going to be a love story, and that a plot and script had been chosen.
Aimée has told NME in a recent interview: "Yes, it's still happening, and I've been helping them with that as well. I think we're getting ready to start casting too, which is really exciting. Finding the right kind of actors to portray them is going to be challenging, but we're looking forward to finding some newcomers.