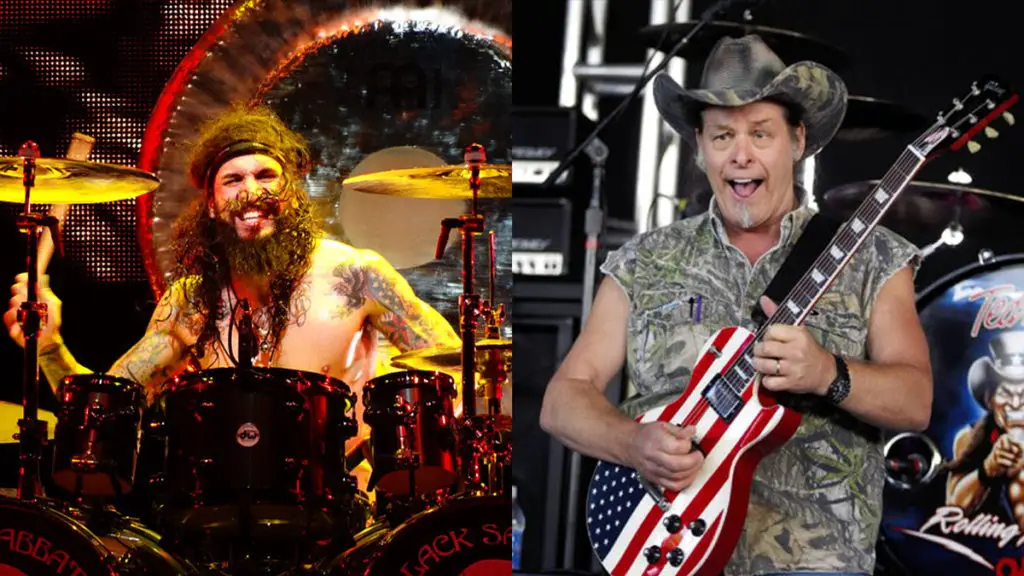 During a recent appearance on The Eddie Trunk Podcast, longtime Ozzy Osbourne drummer Tommy Clufetos talked about his time in Ted Nugent's band.
On how he ended in Ted Nugent's band, Tommy said: "The connection was — I did a gig in my father's band, I played a private party, and Alto Reed — the sax player who just unfortunately passed away [on December 30, 2020] saw me play at the party, and he called me to do some jobs with him.
"And out of the blue, he said, 'I need you in the studio, we're gonna do a song with Ted Nugent,' and that was it [the song was 'Goin' Down Hard' from 2002's Craveman]. We were recording for a movie soundtrack, a couple of songs or something like that, and a ding went off in my head, and I go, 'This is it. This is my one little shot to go to the next scene.' So I got a one-day audition to go play for Ted Nugent in the studio, and after that, he called me to be in his band."
When asked what was his experience with Ted, Tommy responded: "Ted was awesome, awesome, awesome — very supportive. Being from the same town, you kind of have to have the same influences, so first of all, growing up in Detroit is way different than California.
He continued: "Just, the music is different, the way I think about music is different — it's a different tactic, it's more about driving and propulsion and momentum, and energy, and that's how I was, and hopefully still am as a 20-year older man now.
"It's about energy, it's all about taking black music and making it faster, and still trying to have that same vibe — Little Richard and Chuck Berry and all those artists, Detroit took that. And that's what they were inspired by, and I was inspired by those things, and Ted saw that in my playing, and we got along great. He was absolutely awesome."