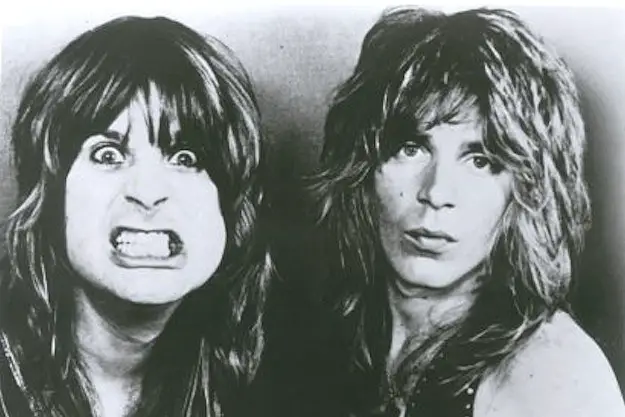 During a recent appearance on the Broken Record Podcast, Ozzy Osbourne looked back on the first time he met his original guitarist, the late Randy Rhoads.
"A guy called Dana Strum from SLAUGHTER – Dana Strum was my original choice for the band," Ozzy said. "Sharon got me auditioning people, I never auditioned anybody in my life… So Dana says, 'I'm gonna bring this kid, he's great.' So he comes, and he's just a little guy who must've weighed 100 pounds wet. He was like a woman, you know?
"I said, 'F*ck, he's got to be joking!' He's [Dana], like, 'Hear me out. He's gonna come down to the studio so you can hear him play.' So I go down to the studio, and I'm thinking I'm hallucinating – this kid comes in with his little amp and he's blowing my lights… I mean, this kid was someone else.
He continued: "I was, like, 'Do you want the gig?'… I mean, it was unbelievable. We wrote 'Goodbye to Romance,' the first song that we ever wrote. But then he was, like, he didn't want to party. He was a true musician. He wrote music, he talked music."
Ozzy released his new solo album, Ordinary Man, on February 21st.
Ordinary Man was preceded by a trio of new Ozzy classics. Epic rocker and first single "Under The Graveyard" tallied over 15 million streams and 5.3 million YouTube views on the music video. Premiered just last month, the title track and cinematic ballad "Ordinary Man" [feat. Elton John] eclipsed 7 million streams. Meanwhile, the metallic burner "Straight To Hell" [feat. Slash] scored 6.9 million streams and 4.2 million YouTube views on the music video.
Ordinary Man marks Osbourne's first new solo music in almost 10 years. Recorded in Los Angeles, the album features producer Andrew Watt on guitars, Duff McKagan (GUNS N' ROSES) on bass and Chad Smith (RED HOT CHILI PEPPERS) on drums. Beyond the core band, Ordinary Man, features a who's-who of Ozzy friends and collaborators including Elton John, Slash, Post Malone, and Tom Morello.