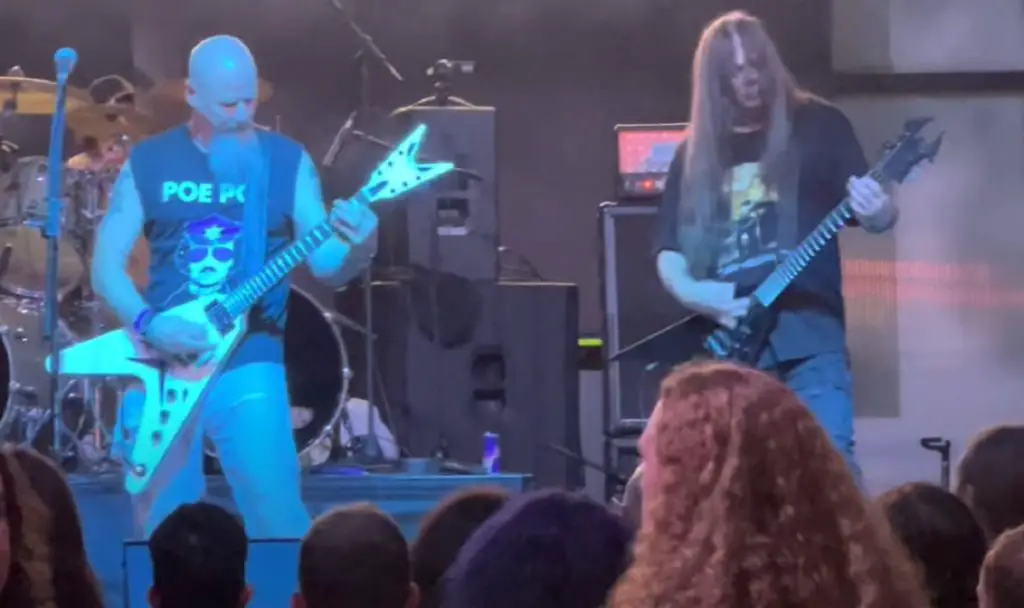 In a new interview with Blabbermouth, EXHORDER frontman Kyle Thomas spoke about former CANNIBAL CORPSE guitarist Pat O'Brien, who performed with his band at the 2022 Maryland Deathfest this past.
"He was as apprehensive about it as anybody," Kyle said. "Having not been onstage for a while, he wondered, 'Are these people going to want me around?' We were, like, 'Come on, Pat. You're Pat O'Brien. These people want to see you.' I can appreciate how he felt about it after all he had been through. I could imagine there was an intimidation factor about it. We got up there and he said, 'I think I'm going to lay low in the back, get up and play and be done.'
"As soon as we got onstage and people saw him, the place went nuts," he continued. "I said to the crowd, 'Hey, look, you all know Pat, right? Show Pat some love.' And they went nuts. They adore this man. Who wouldn't? If you ever met him, he's one of the nicest people you'd ever meet. He's one of the greatest at what he does, too.
"Then he started taking pictures with people and talking [after the gig]," Thomas added. "He had a big smile on his face. That was so worth it. Here was a guy who needed a good break in his life and we needed help from him to get the show done. It couldn't have been any more perfect."
O'Brien made headlines in December 2018 when he was arrested for burglary and assaulting a police officer while his Florida home was in flames. At the time of the arrest, deputies said he burglarized a house and charged at a deputy with a knife.
He has since been replaced in CANNIBAL CORPSE by Erik Rutan, one of the death metal's most acclaimed guitarists who is known for his time as part of MORBID ANGEL throughout the '90s and early 2000s, as well as handling vocals/guitars for HATE ETERNAL.
On March 2021, O'Brien was sentenced to time served and five years of probation and ordered to pay $23,793.45 in restitution. He was also ordered to get drug and alcohol evaluations and render 150 hours of community service. In addition, O'Brien was ordered to abstain from using alcohol and controlled substances and to be subject to random testing.