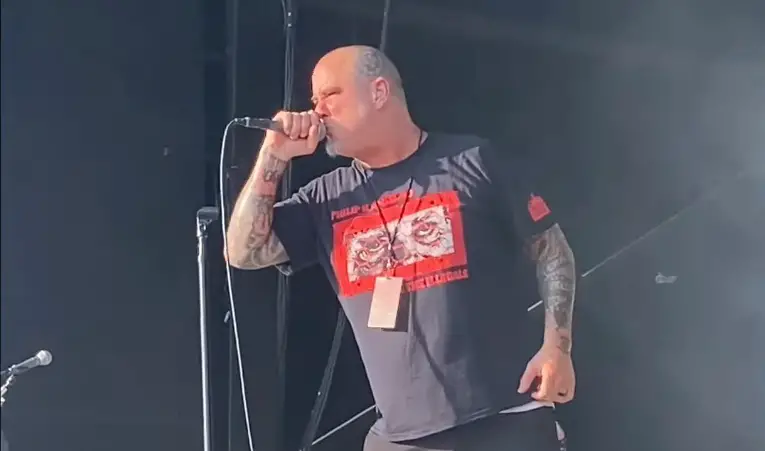 An official video for a cover of MOTÖRHEAD's "Ace Of Spades" by Philip H. Anselmo (DOWN, PANTERA),Gary Holt (EXODUS, SLAYER),Chuck Garric (ALICE COOPER),Sacha Dunable (INTRONAUT),Nick Oliveri (STÖNER, QUEENS OF THE STONE AGE, KYUSS),Dwid Hellion (INTEGRITY),and Zach Wheeler and Tom Polzine (HOWLING GIANT) can be seen below.
Every rock and roll all-star featured on the song contributes a different offering in worship of Lemmy. Phil Anselmo's jagged molasses vocals bounce off Dwid Hellion's demon howls while Gary Holt's signature shredding gives the track an extreme outlaw's metallic edge. If you hear that desert rock vibe with a hardcore kick in it, you got Nick Oliveri to thank for that. Kelley and Kyle Juett from Mothership contribute the space rock rhythms that blast this message off through the atmosphere to deliver it straight to Lemmy. Zach Wheeler and Tom Polzine contribute Howling Giant's crushing rock and roll to keep the track grounded close to the Earth, adding that massive, unmistakable groove. Sprinkle in Sacha Dunable's awesome virtuosity on guitar and Chuck Garric's legendary bass and you have a recipe for one of the greatest covers in rock and metal history.
The song is taken from the upcoming MOTÖRHEAD tribute album, Löve Me Förever: A Tribute To Motörhead, which will be released on June 19 via the new in-house label, Psycho Waxx, created by the founders of Psycho Las Vegas festival. Album can be pre-ordered via Bandcamp here.