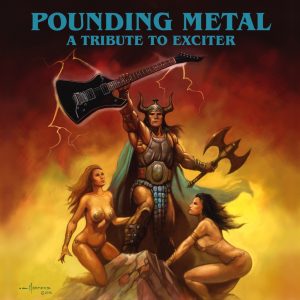 Today the space is open to one of my dearest bands. So sorry if I get too emotional, but Exciter is one of the first metal bands I've heard and it's a big part of my life. I will by far extend the word limit of this review. Please, pardon me. In my humble opinion, and I'm entitled to one, Exciter is THE biggest canadian band. And that's all. Of course, there are Anvil and Rush, but Exciter is a pioneer of subgenre that is still strong among metalheads: thrash metal. Let's remember that "Heavy Metal Maniac" was released one month before Metallica's "Kill'em All". Just that! BTW, I have this original vinyl masterpiece! Nah, nah, stop drooling… I got it by the mid 1990's when people were selling their LPs to buy CDs. My luck!
Most people, specially newcomers, don't know that Dan Beehler, the drummer, was also the lead singer. Yes, he sang all songs. And my brothers and sisters, you don't know how difficult it is to do that. And how rare also. Very few drummer did that. As everything about Exciter, Dan Beehler's voice was very personal too. Acid, gritty, and powerfull and sometimes he could also give some screams that were his personal mark. And my, he is such an excellent drummer!
After the success of their three first albums, Heavy Metal Maniac, Violence And Force and Long Live The Loud, which are represented here, with "Unveiling The Wicked" Exciter tried a different track. The axeman John Ricci left the band and with him went away one of the most personal guitar playing that I've ever met. I'm not flying when I say that his guitar lines were responsible for most of Exciter's success and personality. In terms of technique he was no wonder, but he played with heart and soul and lots of distortion. So much that a friend of mine when heard that for the first time said that he was a 'fountain of distortion'. "Unveiling The Wicked" wasn't really a bad album. I like it a lot. But it's very different from Exciter's former albums. And because of that some metalheads thought they were sold out as some bigger bands did that time. Maybe that's why there's no song of "Unveiling The Wicked" in this tribute. What is really a pitty. 
But what else to say about one of the most original and true metal bands of all times? That they for sure deserved better? That they are one of the most underrated bands of all? That they wrote a bunch of Metal classics? Maybe, maybe. But let's forget that. That's life, and as we all know sometimes life isn't really fair. Time always heals some wounds, and Bart Gabriel and his guys sure did a great job here. It's really a tribute! Bands played with heart. Exciter's memory was respected! A big hail to them!
Now let's talk about the album, shall we? Well, in my opinion, and as I said before, I'm entittled to one,  bands have two choices in a tribute album: or they emulate the band piece by piece, what to me is respectfull, or they give the song its personal touch, what is also great. That's exactly what the bands did here. I really liked Ironsword work with "Death Revenge". Their very personal style gave an extra light to "Death Revenge". Crystal Viper gave "Long Live The Loud", to me Exciter's biggest classic, the treatment it deserves with the beautiful voice and guitar solos. Very well chosen. And so did October 31 with "Stand Up And Fight", Visigoth with "Rising The Dead" and Vulture with "Feel The Knife". On the other hand, Ranger with "Evil Sinner", RAM with "Beyond The Gates Of Doom", Masters Of Disguise with "Black Witch", Gatekeeper with "Victims Of Sacrifice" paid their respect. Even the chorus reminds us all of the great Exciter.
If you don't know Exciter that's a great album to get started. If you do, listen to the great job Bart Gabriel, the bands, and the guys from Skoll Records did here. But be quick, "Pounding Metal – A Tribute To Exciter" will be released on April, 28th, but there are only 500 copies available.
Track Listing:
Attacker – Cry Of The Banshee
Evil Invaders – Violence And Force
Crystal Viper – Long Live The Loud
Ironsword – Death Revenge
Ranger – Evil Sinner
RAM – Beyond The Gates Of Doom
Masters Of Disguise – Black Witch
Savage Master – Saxon Of The Fire
October 31 – Stand Up And Fight
Visigoth – Rising Of The Dead
Gatekeeper – Victims Of Sacrifice
Vulture – Feel The Knife