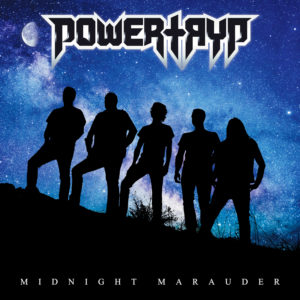 Of course my fan will remember that I said once that when I wonder about a Metal song I always imagine it as a Speed Metal thing. Yeah, always. To be real honest with you my fan this "Midnight Marauder" is the kind of album that keep me up all night. Perfect isn't the word that expresses truely what I fel about it. A combination of Saxon, Iron Maiden, Kiss, Helloween, Judas Priest, and Scorpions. Only that. Plus some dashes of Exciter, Pretty Maids, and Acid. Mostly importantly, Accept.
I'll go right to the point. I just love when the vocalist sings as it is his last notes on the face of this sad and lonely and pathetic little planet. Johannes Korda does exactly like this. Go to "Here's Control" and my dear fan will listen to one of the passionate vocal performances I've heard in some time. Ok, Robbie Halford and Udo Dirckschneider don't count. They are beyond everybody. But this guy here has the heart on his vocal chords. It's no overreaction. My fan here knows that I'm right. "Midnight Marauder" is the albums for the metallers that like some Speed Metal with some variation and lots, but lots of emotion. Here the fan gets all the package with twin guitars, fast riffing, extreme velocity drumming, passionate vocals, cliché riffing – but effective, that's why cliché – and many other things, and mostly important a lot of blood in the hands. Metal bands must have blood in their hands. That sparkle in the eye as if it were the last song to be performed ever. Take a look at "Out of Ashes" and tell if you don't feel it. By the way, the song has more than eight minutes of pure pleasure cruise.
The minute I heard album opener "Brother's in Speed" I felt this album was made for me. The energy the speed of the song passes is unstopable and uncontrollable. The same feeling when a 10 ton truck looses the brakes and it's behind you. So, close your eyes and run the faster you can. That's feeling he fan gets with "Midnight Marauder" and its ten tracks especially designed to be the speed. I got the feeling that the drums in the song were somewhat inspired on Kiss "Love Gun." Is it just me? Well, Kiss are on the aforementioned list. So, no problem at all.
Powertryp "Midnight Marauder" was released on February 01st via Rafchild Records.
Track Listing:
Brothers in Speed
Doors Are Locked Now
By My Hand
Bastet
Here's Control
Chapel of Steel
Hotter Than Hellfire
Out of Ashes
No Pride
Nail Your Prophet
Watch "To the Cross" alive video here.