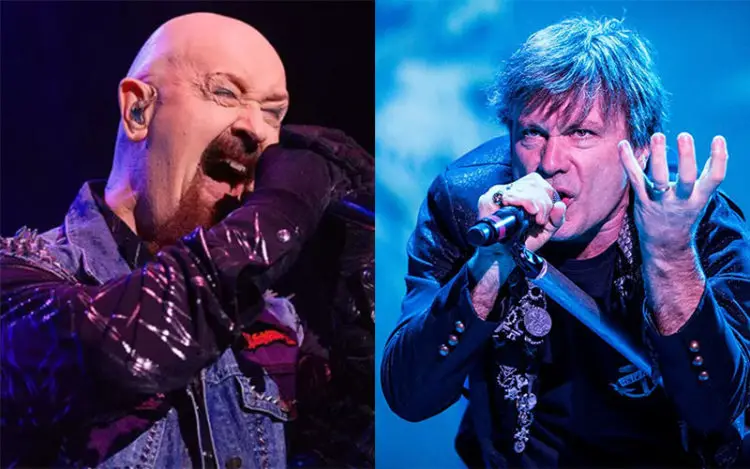 In a new interview with Consequence Of Sound, Rob Halford says that he would love to see JUDAS PRIEST join forces IRON MAIDEN for a tour.
"I think both bands would look to do that. It's all about the timing of doing such a thing. We're good friends."
"When we talk about rivalry, healthy rivalry, it's like the Arizona Cardinals and the Raiders or the Phoenix Suns and Golden State Warriors," he added.
"It's that kind of rivalry, a good rivalry. It's a fun rivalry. But I think both bands have admired each other throughout the metal years, and it would be a spectacular event — PRIEST and IRON MAIDEN together.
"My dream had always been to have like the 'Big Four' of the U.K., without turning this into a kind of depressing way," he said. "I'd always dreamed of BLACK SABBATH and MOTÖRHEAD and PRIEST and MAIDEN as the 'Big Four' doing something in the U.K. Sadly, two-fourths of that has gone," referring to the passing of Lemmy and BLACK SABBATH's retirement, "but the music lives forever. That's the main thing."
Earlier this year, PRIEST bassist Ian Hill talked about artists he would like the band to collaborate with, singling out fellow heavy metal icons IRON MAIDEN among the top picks.
"It will come," Ian said during the interview, "eventually there will come a time when maybe you aren't able to perform to your optimum or high standards anyway, and you have to admit to yourself that you've got to do other things.
"There will come a time, but for us, it's not yet. I can see the reasons why they're doing it, but we're enjoying it too much at the moment to consider quitting!"