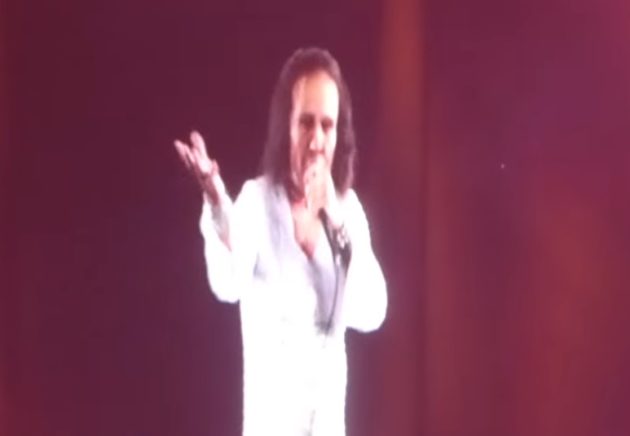 Billboard reports that the hologram of late Ronnie James Dio "is set to hit over a 100 cities in 2019 with an accompanying live five-person band, a first in live music."
Hologram production company Eyellusion, which created the Ronnie James Dio hologram, has signed with the Agency for the Performing Arts (APA), represented by agency partner Steve Martin.
he Dio hologram production uses audio of Ronnie's live performances from throughout his career, with the DIO DISCIPLES band playing live, consisting of Simon Wright on drums, Craig Goldy on guitar, and Scott Warren on keyboards, along with Bjorn Englen on bass. Also appearing with them are former JUDAS PRIEST singer Tim "Ripper" Owens and ex-LYNCH MOB frontman Oni Logan.
After the tour's initial seven-date run was completed last December, Ronnie's hologram is undergoing "some changes" before the launch of the next leg of the "Dio Returns" world tour.
"The big question when we first toured Dio through Europe was 'Is anyone actually going to show up?'" Eyellusion CEO Jeff Pezzuti told Billboard. "We sold out the last three shows in Europe and we did really, really well. We're such believers in what we were doing and we're all such massive fans — in my sixth-grade class picture, I'm wearing a DIO shirt, so you can imagine taking this all the way across the finish line has been a dream come true."
Ronnie's widow and longtime manager, Wendy Dio, who is a member of the Eyellusion team, previously said that the people that criticize the Ronnie James Dio hologram should at least see it in person before voicing their disapproval. "Don't criticize it if you haven't seen it," she told "Whiplash", the KLOS radio show hosted by Full Metal Jackie. "It's done with love. The band love doing it. And we just wanna keep Ronnie's memory and his music alive."
She added that a digital version of Dio makes perfect sense. "I think that Ronnie was an innovator of heavy metal music, so why not be an innovator of technology?" she said. "And I think technology is coming a long way with holograms — a lot of people are doing it now. And I think the reason is because we are losing all of our innovators; everybody is getting older. And we need to keep them alive and keep their memory and their music alive. I think it's a new way. It's like when people first came out with a CD or a cassette: 'Ooh, we don't want that.' But then it was the way of technology."