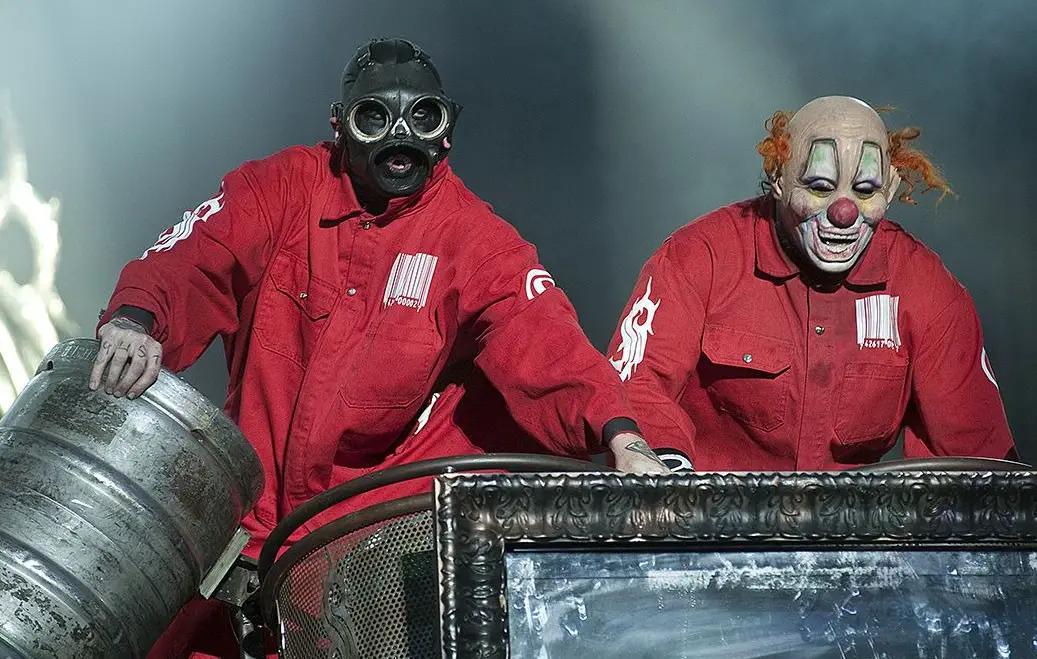 Sid Wilson revealed he wanted to demonstrate to Shawn "The Clown" Crahan that he was as "crazy" as the previous percussionist prior to joining SLIPKNOT, recollecting how he accomplished this – by headbutting Clown multiple times during one of the band's concerts.
During a recent chat with Revolver magazine, Sid remembered how Clown insisted that SLIPKNOT was "insane" when the DJ was getting ready to be part of the group.
"I was already practicing with the band and coming up with parts and everything," Sid said. "But before making the commitment, I needed to see the band live. They kept telling me, 'We're crazy, we're crazy. We wear masks, we're crazy.' I'm like, Got it. Check. Crazy. I'm like, 'I'm crazy. Trust me.'"
Wilson described how Clown would create a creepy atmosphere before they performed "Tattered and Torn" by walking around the crowd while chanting "Kill me" menacingly and then causing mayhem among the unsuspecting audience members.
"He would go out in the crowd and wrestle with kids, tie them up with microphone cords and drag them across the floor," Wilson said. "So he would go into the crowd every show — I didn't know this, I'd never seen the show before. And I can see him looking at me through the mask, and he starts this 'Kill me' [chant], and I see him coming out from behind this drum, and I could just sense it.
"I was like, He's coming for me. He wants to prove to me that they're crazy — and I am f**king nuts. So I'm like, It's on," he continued. "And I just start running and I start leap-frogging people, grabbing their shoulders and just jumping over. And then I'm crawling across the top of the crowd. And I get up there and he was getting ready to take one step off the stage. He looked down to get his placement, and he looks up and I'm right there.
"I grab him and I headbutt him six times. Bam, bam, bam. And I'm coming in for the seventh one and he pushes me away, falls down and crawls back to Joey [Jordison, SLIPKNOT original drummer]. And he goes, 'I don't give a s**t what anybody says — that guy's in the band.'"
SLIPKNOT's latest studio album, The End, So Far, was released on September 30, 2022. This is the band's final album to be released through Roadrunner, whom the band signed with in 1998.
The End, So Far follows SLIPKNOT's widely celebrated 2019 album We Are Not Your Kind, which marked SLIPKNOT's third consecutive #1 on the Billboard 200. The release made a massive global impact with #1 debuts in the Official Album Charts of twelve countries around the world, including the UK, Australia, Canada and Mexico, with Top 5 debuts in an additional twelve countries including Germany, France and Sweden.