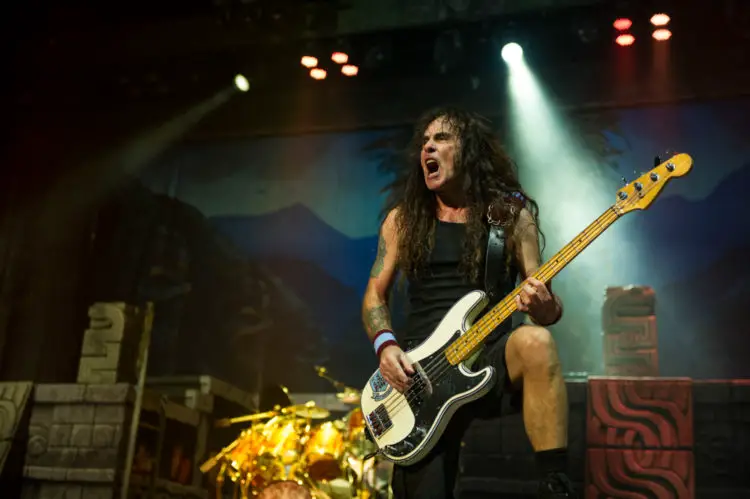 In a recent interview with Classic Rock, Steve Harris's responses indicate that he is cognizant of the fact that IRON MAIDEN may not exist as a band forever.
When questioned about the possibility of a new album, Harris mentions the band's preference to prioritize touring while they still have the chance. Furthermore, he openly acknowledges the potential conclusion of the band, stating that their current enjoyment of touring may stem from their awareness that their time together as a band is limited.
"Who knows for sure? At the moment we want to tour as much as we can. But even if we did semi-retire [from playing live], we could still make albums. I don't know. We'll see," Harris said.
"I always thought that it would be nice to make fifteen albums, which we've surpassed. It's all downhill from here, isn't it? [Laughs.] But each of us is still enjoying it – possibly more than ever – maybe because we know that we're coming towards the end. We try not to think too much about that, but so long as everyone still enjoys what we do we'll keep on going as long as we can."
Elsewhere in the interview, Harris was asked if he was happy how the band's latest album, Senjutsu, was received. He responded: "Yeah. There will always be people that think the band died in 1988, and much as it puzzles me, it's fine that someone could think that. Maybe they're hoping we will go back and do something like we did in eighty-eight, but we'll never do that. Now is now. Why would anyone want part two of something from the past? "
 Senjutsu was released in September, 2021. Their first album in six years, it was a critical and commercial success, praised for its ambitious epic scope. Two singles, "The Writing on the Wall" and "Stratego," were released to promote the album.
IRON MAIDEN will bring a new tour to Europe in the summer of 2023, including arena shows in the U.K. and Ireland. IRON MAIDEN's "The Future Past Tour" tour will see band performing songs from their latest album Senjutsu as well as from 1986's Somewhere In Time along with other fan favorites.