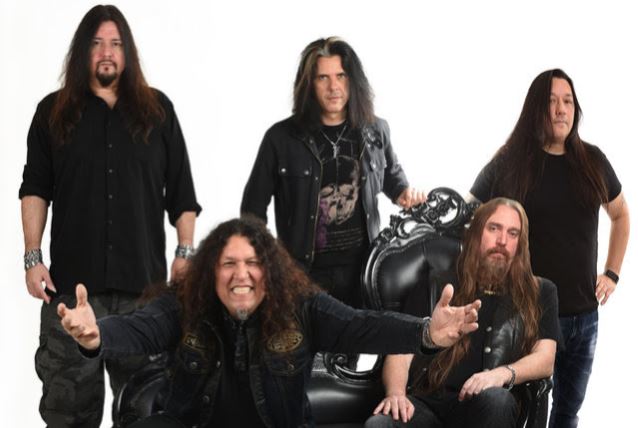 Legendary bay area thrash metal giants TESTAMENT have announce the title and release date of the band's upcoming 12th album.
"The Brotherhood Of The Snake" will be released on October 28, 2016 via Nuclear Blast.
The record was recorded under the watchful eyes of producer Juan Urteaga(EXODUS, HEATHEN, MACHINE HEAD), guitarist Eric Peterson and singer Chuck Billy and is currently being mixed and mastered by well-known metal producer Andy Sneap (ACCEPT, ARCH ENEMY, CRADLE OF FILTH, KREATOR, MACHINE HEAD, MEGADETH).
Commented Peterson in an interview with Metal Maniac: "It's very diverse, but it's very epic. There's nothing on there that breeds commercial. And I think for thirty years of recording music and trying different formulas and stuff, I think we've found a formula that is very metal. I think for the metal fan that is looking for something for the nook and crannies… not just your normal, 'Oh, it's got a thrash beat and a riff.' There's a lot going on here."
The songwriter also told Metal Forces in another interview: "It's different. This one is more thrash. I mean, this has got some of the fastest stuff that we have ever played. Usually, we have one or two thrash songs, and then we have some mid-tempo, and then we have a slow, heavy one, and then up-tempo kind of stuff. Half of the new record is thrash, which we've never done before."
He continued: "It's kind of like "Demonic" and "The Gathering", but a little bit wiser, I think. Chuck's not singing so death. I mean, he does some death stuff but he's singing more like he did on the last record and then with the craziness of »The Gathering« or even heavy stuff like "Demonic"."