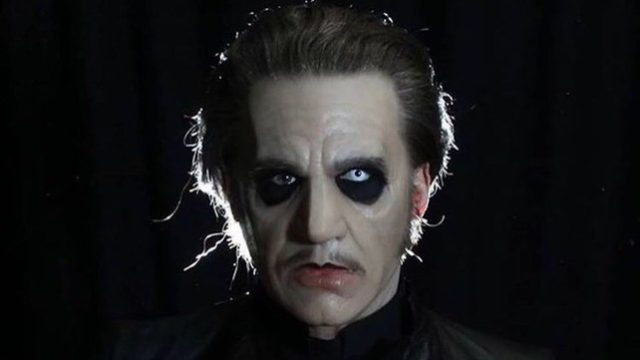 In a new interview with Loudwire, GHOST leader Tobias Forge discussed the group's new singer Cardinal Copia. You can check out a part of the interview below.
Loudwire: "Cardinal Copia has been around for almost a year. This is sort of his test to become the next Pope figure. How do you think the Cardinal is doing? Do you think he's on his way to becoming that next Pope?"
Forge: "I hope, I hope so. I think he is doing well, but he still has a long way to go. I don't think it's as quick as people want it to be. [Laughs] Have patience. Patience is key."
Loudwire: "I think growth, in this case, is also a collective effort. It is about understanding and acceptance – growing to like and accept someone who doesn't look like the others and might be different from the others. From that perspective, I think the acceptance is going very well… so far. The grand incentive is hopefully to meta-morph into what we all want him to become. I long for that day, as well."
Loudwire: "I know it may be very difficult to pick, but having lived through all three Papa Emeritus', can you tell me who you miss the most or who you loved being the most?"
Forge: "I can't really tell you, actually, because I'm very much at odds with those guys – all of them. [Laughs] Jealous, maybe – they can be all that I'm not."
Loudwire: "Do you feel the same for the Cardinal? He can be something that you are not?"
Forge: "Oh yeah, there are a lot of things that I am not. To a certain extent, they are very much how I wish I were, but not entirely. I also work on my manners. I want to be also less of an asshole. [Laughs] I don't miss any of them in particular, no. I'm definitely looking forward to, hopefully, seeing the Cardinal becoming more of a papal figure. I miss the skull paint and the robe."
Loudwire:
"Theoretically, there's a chance that 30 years from now, it might be playing somewhere and there might be people willing to listen. 'Dance Macabre' feels like one of those songs that you want to play forever. [Laughs] It's our 'Living After Midnight.' It's just a song that we really needed. It makes most people very happy when we play it and it makes us happy playing it.
"Playing a two-and-a-half hour set that sort of goes up and down and has metal moments, headbanging moments, more serious moments, bombastic moments… and it has its sad moments where people are literally sobbing. I think it's a nice relief towards the end where it just comes up as an uplifting party track. Even though the lyrics are extremely apocalyptic, it just has a feel-good vibe that I like a lot."