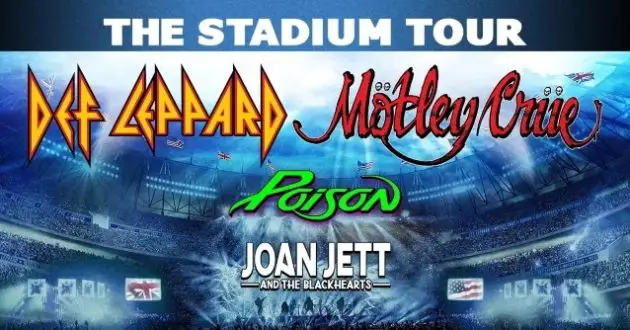 MÖTLEY CRÜE drummer Tommy Lee told Billboard in an April 1 interview that their "The Stadium Tour" with DEF LEPPARD, POISON and JOAN JETT & THE BLACKHEARTS is still going according to the plan, even though most other events have been canceled or postponed due to ongoing coronavirus pandemic.
"Everything's still a go," Lee said. "We're all in constant communication. Nikki [Sixx] and I have been in several production meetings. You're talking multiple stadiums, so it's like two kids in a candy store putting together something people are going to walk [away from] saying, 'Are you f*cking kidding me?!' That's our mission right now, and it's definitely headed in that direction."
Lee also said that he is "fuckin' pulling my hair out" over his trademark drum stunt, which he hopes to top on the upcoming tour.
"What am I supposed to do at this point? I literally have done the impossible — and all of it. Do I shoot myself out of a f*ckin' cannon? At a stadium, there's no ceiling. There's nothing to hang from, so there's a bunch of issues we've been talking about, trying to get around a lot of that. It's f*cking crazy town, dude."
"By the time all this f*cking apocalyptic bullsh*t is over, I think everyone's going to be in a really good mood to go out and have the f*cking best time ever. I really do," Tommy added. "I hope everyone stays inside, and we can get a f*cking grip on this and get back to people having their normal lives."
MÖTLEY CRÜE have collectively agreed to rip up the "cessation of touring" contract that they signed back in 2014 preventing any of them from performing under the band's name in the future.
Almost 6 years after signing a "cessation of touring" agreement, the MÖTLEY CRÜE contract is off the table because a whole new generation of Crüeheads are relentlessly demanding for the band to come back together," band said in a statement. "Following the huge success of their Netflix biopic The Dirt, MÖTLEY CRÜE has seen a massive surge in new audience. And the band best known for breaking the rules has destroyed their cessation of touring contract in true MÖTLEY CRÜE fashion, by literally blowing it up.
Tickets for the tour are available here.