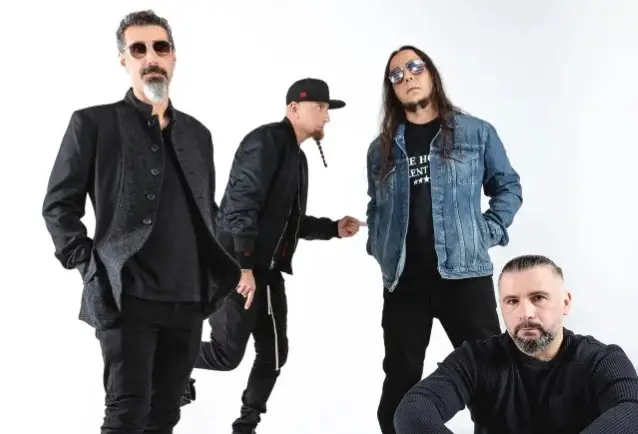 During a recent appearance on "93X Radio," SYSTEM OF A DOWN singer Serj Tankian talked about the lyrics of the band's classic "Chop Suey!".
"With Rick Rubin, our producer, during 'Chop Suey!' in the lyrical process, I had the chorus and we had the verse, and I was looking for the breakdown, the middle eighth section, lyrically," Tankian said." I was just trying to come up with something, and I was just stuck for a second. We were in the studio, hanging out, and he said, 'You know what? Let's take a break, let's go to my house.'
"We went to his house, he had this huge library, and he goes, 'Just pick a book, any book.' And I just reached out, picked the book. And he goes, 'Open to any page.' I opened to a page, put my finger on it, and that was the middle eight lyrically. Using the universe to guide you was incredible, and the way that it worked with the rest of the lyrics was what stunned me."
The lyrics in question are, "Father, into your hands I commend my spirit," and the book in question was the Bible apparently: "Jesus called out with a loud voice, 'Father, into your hands I commend my spirit.' When he had said this, he breathed his last." (Luke 23:46)
"Chop Suey!" is the first single from SYSTEM OF A DOWN's second album Toxicity. The single was released in August 2001 and earned the band its first Grammy nomination in 2002 for Best Metal Performance.
Last November, motivated by the recently-erupted conflict between Artsakh and Azerbaijan, the latter aided by Turkey and accountable for the greatest violence the region has endured in 26 years, SYSTEM OF A DOWN — Daron Malakian (guitars, vocals), Serj Tankian (vocals), Shavo Odadjian (bass) and John Dolmayan (drums) — released first new songs in 15 years: "Protect The Land" and "Genocidal Humanoidz."
"Genocidal Humanoidz" and "Protect The Land" were both produced by guitarist/vocalist Daron Malakian, who also wrote the music and lyrics.