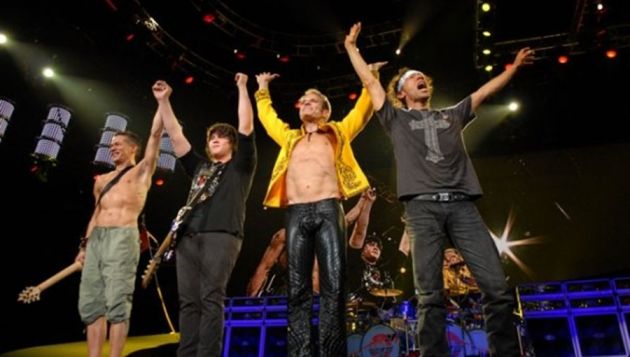 In a new interview with Spin, Wolfgang Van Halen was asked for his memories of the final VAN HALEN show and tour.
VAN HALEN tour ended with the band's last show ever, at the Hollywood Bowl in Los Angeles, CA, in October 2015.
"I got a really funny story about that," Wolfgang says. "Nobody's asked me about this before, so I'm glad you did. I'll set it up for you. Throughout the whole tour, Dave [David Lee Roth, vocals] had an issue whenever someone in the audience had a beach ball.
"Outdoor theater, summer concert, Southern California party rock, VAN HALEN — it's not out of the ordinary. But every time he saw them, it would really upset him for some reason. And he would stop singing and then stand at the front of the stage and say, 'Throw the beach ball up here, throw the beach ball up here, throw the beach ball up here!' eight times until it eventually got up, and he would stamp it out.
"Then he'd throw it off the stage. I guess he just really didn't want that out there," Wolfgang continued. Before the very last show, the tour manager came up to my dad and me and whispered, 'Hey, you've got a funny little surprise for all of you guys at the end of the show.' We're like, 'What?'
"And he goes, 'At the very end of 'Jump' when you're doing the ride out, we're going to release 50 beach balls from the top of the audience. And we'll just see what happens.' But even if he gets pissed off, what was he gonna do? It's the last fucking show. And sure enough, we get to 'Jump,' and there was just a cavalcade, an avalanche of beach balls, and Dave was just, like, short-circuiting.
"He didn't understand how to handle it. But we all laughed it off. And it was just a really fun, almost like a fun practical joke,: he added. "And yeah, that was a really fun memory of that show. As time went further and further by, the more I thought about it like, 'Wow, if that is the last show, what an amazing way to cap it off.'