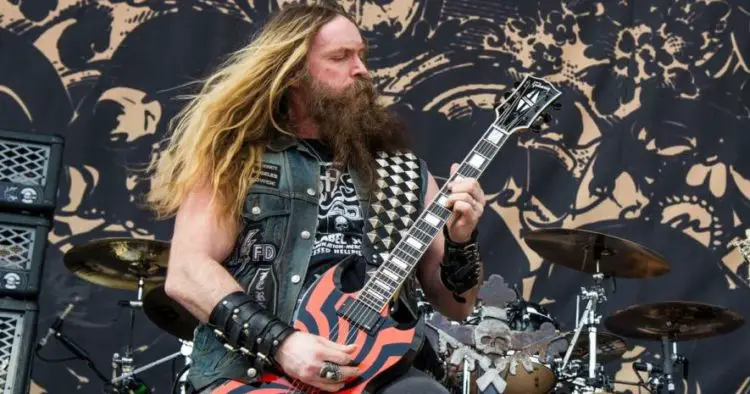 During a recent appearance on "The Wikimetal Happy Hour," Zakk Wylde talked about making music with BLACK LABEL SOCIETY, BLACK SABBATH, Eddie Van Halen, and more.
After interviewer said that he noticed "a little influence by BLACK SABBATH" on new BLACK LABEL SOCIETY album, Doom Crew Inc., Zakk added: "I've heard of them. People say, 'Zakk, where'd you get the idea, the inspiration for this riff — or that riff, or whatever?'
"And I go, 'Well, I get a lot of my riffs from the Lord [Tony] Iommi's garage sale.' He has a garage sale set up, right in his driveway at his house in his garage. And I'm like, 'Excuse me, that riff right behind that plate over there? Where's that from?' He's like, 'Oh, this riff is from 1973…'
"I go, 'How much do you want for that?' He's like, 'Eight dollars.' I go, 'Here's $10, keep the change.' And I get pretty much the majority of my riffs from that, the Lord Iommi garage sale. It's great, there's a lot of great things you can find."
When asked how boring would world be without BLACK SABBATH, Zakk responded: "It would be terrible. Put it this way — when I listened to [the 1975 BLACK SABBATH compilation] We Sold Our Soul for Rock N' Roll, I was Catholic when I started listening to it, and by the middle of the album, I became a full-blown Satanist.
"Then at the end of the record, I converted back to Catholicism just so I could thank god for creating BLACK SABBATH."
Asked how sad is the world without Eddie Van Halen, Zakk said: "Yeah, but just think about how blessed we are that we had him as long as we did. Let alone the first two records, even after the first album [1978's Van Halen], if he retired or quit after that, he already changed the game. We're blessed with that let alone his whole body of work. It definitely sucks without king Edward here but I just thank the good lord what this insane body of work he left us. We're all fortunate that we lived when he was here, that we were on the planet when he existed."
"I was friends with him," he continued. "He's just a great guy, a sweetheart. It's just mind-blowing. It was just a really sad day when Ed passed away but thank the good lord for all that he was able to give."