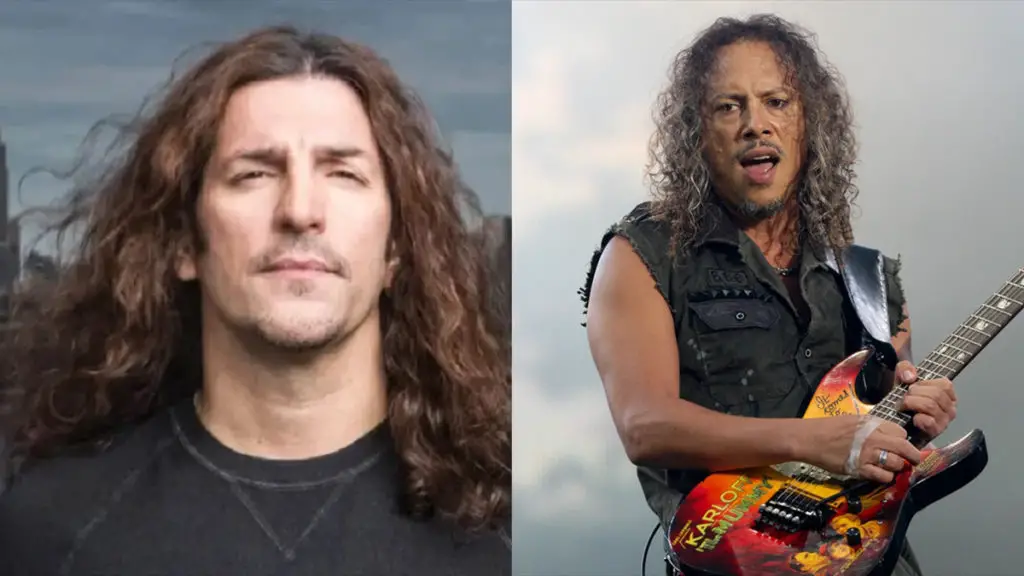 During a recent appearance on "The NFR Podcast," ANTHRAX bassist Frank Bello shared a really cool story while promoting his new book Fathers, Brothers, and Sons: Surviving Anguish, Abandonment, and Anthrax. You can order his book from Amazon here.
"I'll give you a quick story, my favorite rock 'n' roll story in this book ['Fathers, Brothers, and Sons']. ANTHRAX plays San Francisco one night, guys from METALLICA come down — this was years ago — they come to the show, have a great time — this is the days of drinking, we're all drinking and stuff like that, way back then," Bello says. So, we go bar hopping and stuff, so comes a time when the bars close, 2 o'clock – whatever, 1:30 — and somebody comes up with a great idea, 'What are we going to do now?'…
"Kirk [Hammett, guitar] had already gone home to his house, he went home earlier, so we were just still bar hopping, so somebody comes up with a brilliant idea, 'Why don't we go to Kirk's house?' This is 2:30 in the morning, dude, I don't know who came up with the idea, somebody yelled it out, 'We're going to Kirk's house! He's got this jam room in the back, we could go in there and jam and have a great time!' We wanted to make a lot of noise, we were all drunk — James [Hetfield], Lars [Ulrich] — and it was a lot of fun.
Frank continued: "I was in Lars's Land Rover, and somebody was driving for him — Range Rover, whatever, one of those cars it was — all I remember is being in the back, and I drank so much, so many f*cking shots, that I kept throwing up in my hand and throwing it out of the side of window. The f*cking roads were like this, 'Where the f*ck are we going? [Vomits]…' So this whole side of his car is filled with my puke — it was disgusting. My hands… It stinks in the f*cking car…
"So we finally get to Kirk's house. Now, realize, this is a beautiful area, a really beautiful neighborhood that he lives in, in the hills of San Francisco, but I didn't know where the f*ck I was. I just follow suit – everybody goes up, James, Lars, I think Charlie [Benante, ANTHRAX drummer] was there, so we go up, we're gonna jam…. I think somebody knew, I don't know if it was Lars or James, that he didn't lock the backdoor. The backdoor was open, we went right around the back of the house, we opened the door, and there's this great f*cking jam room. Marshalls, drums, bass amps, just beautiful setup… So we're f*cking drunk out of our faces, dude, we get these guitars on, bass — if there's 11, you would turn it up to. Everything went on to f*cking 10… You know these guys, it was the f*cking best.
"Everything went on 10, the loudest f*cking… We were just jamming f*cking E, screaming at the top of our f*cking balls, the loudest noise you could, just raging. This is Kirk's house, it's 2:30 in the morning.
"All of a sudden, there's a little window that comes down from his house, and all of a sudden we see Kirk's face. We couldn't hear him, he goes, 'What the f*ck, man?! What the f*ck?! This is my f*cking house!' He comes through the door, and I don't blame him for him, 'What the f*ck, man?! This is so disrespectful! This is my f*cking house!'
"It was so f*cking funny, we all just left laughing. But I remember feeling really bad… So on the way down — here's the kicker, walking down, Lars and I were walking together, I go, 'Oh dude, this is bad.' I said, 'I really feel bad, we should apologize… I don't know, he's really pissed, we should go and apologize.' F*cking Frank, gullible drunk Frank goes up with Lars, just us two to the front f*cking door, the rest of the guys go to the cars, they were smarter than me, so I just felt bad, maybe it's the guilt I had, I felt bad for making the noise… 'Let's go ring on his bell.'
He added: "So I started ringing his bell. No answer. So there's this big glass door, I'm leaning on it, and Lars is leaning on it too. 'Come on, dude, come on, just ring the bell.' All of a sudden, my a—s goes through the f*cking window of the door, the whole f*cking thing, so Lars and I look at it, 'Holy sh*t!' You f*cking bat out of there down the f*cking hill, he comes out, we're down the hill at this point, poor Kirk, he comes out, 'You broke my f*cking door, dude, what the f*ck?!'
"He was just screaming, it's three o'clock in the morning… The next day, ANTHRAX is at their next show, my tour manager comes to me in the dressing room, 'Dude, where were you last night?' I said, 'I hung out with the METALLICA guys, went for some drinks, had a great time…' He looks at me with this gray face, he hands me this paper — it's an invoice. I think it was $13,000. Dude, it was real, it was the door. I think at the time he said it's some imported Belgium door — it was nice, it looked beautiful, but all I heard was the crack…
"I didn't see it, I just ran, so I'm f*cking scared, 'Where the f*ck am I going to get $13,000 to pay for this…?' I felt horrible. I called Kirk and all that, 'I'm so sorry, dude…' — non-stop just saying I'm sorry. He goes, 'Alright dude, don't worry about it, let it go.' Long story short, it was all a setup, that whole invoice thing, they just wanted to scare the sh*t out of me. It was a great setup, they got me good, because I was like, 'Where the f*ck am I going to get 13 grand?!'
"The fact was, and I'll tell you this, he [Lars] had stopped leaning on it at that time, I was the only one leaning on it, so it was me that went through it — Lars had stopped leaning. He started, but then he stopped, and I was just like, 'Come on man…' [Crash] I'll never forget it — I thought my back was getting cut, I think my a—s got one cut on it because my a—s went through it, it was the real deal, but it was a great setup, that 13-grand thing scared the sh—t out of me.
"That was one of the great, fun, just throwing up like that in the f*cking car, that whole side of his car, it felt so bad, man, it was a great night, though… Look, Metallica, at the end of the day, still the biggest metal band in the world, I still love them as my brothers. They did that Big Four thing, I tipped my hat. They didn't have to do it, they could play stadiums on their own the way I look at it. They're the biggest group in the world for a reason. They did that as almost like a cool thing to do, I thought that was a really cool thing to do coming from the biggest band in the world."