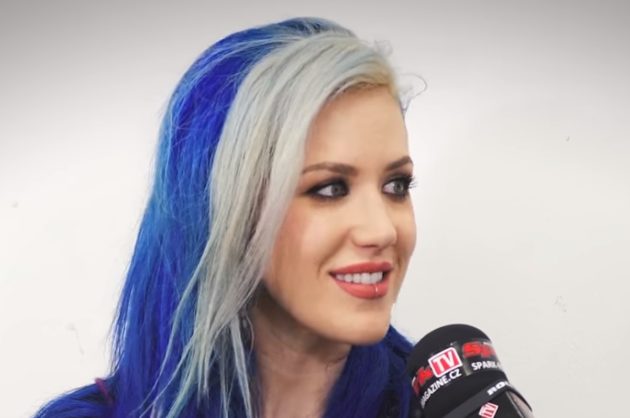 ARCH ENEMY frontwoman Alissa White-Gluz has responded to
a Netherlands-based concert photographer, J Salmerón's accusations of using a photo he took without his permission.
As reported yesterday, Salmerón accused Thunderball Clothing of using his photo without his consent. Thunderball created the leather vest White-Gluz wore in the photo, and used the photo, without the photographer's permission, as an ad.
Photographer then reached out to the company asking 100 euros to be donated to a charity in order for them to keep the picture on their page, and he wouldn't sue them with 500 euros unauthorized use fee, which according to him, they refused.
Now, Alissa posted her side of the story which reads below:
"In early June, I reposted a photo of myself on instagram from a concert photographer, which is common practise. The photo was already posted to Instagram by the photographer himself. I like doing this because it is a way to say thank you and tip my hat to photographers and usually there is a nice symbiotic relationship between bands and photographers this way. If you follow my socials you know this is something we all enjoy. His watermark was visible, the photo was unaltered and he was tagged and credited in the caption, the way we always do it. The girl who made the outfit I am wearing in the photo, Marta, reposted my post shortly after that. She didn't print it, didn't use it commercially, didn't upload or copy it – she reposted it with a free Instagram application called "get_repost", like many of you do. She was just happy to repost the news that I wear her creations (one of a kind clothing items we designed together, not a product that you can buy), and share it with her followers. 99% of the time, this is how this online world functions like a supportive community and everyone wins this way. Often, photographers send us folders of photos in hopes that we like them and we post those, always with their name and credit. We really felt we were doing just THAT.

The photographer of this particular photo was ALWAYS fully credited for the ENTIRE duration of his photo being on my Instagram and Marta's. As soon as he expressed discontent the posts were immediately removed. There was never ANY attempt made by Thunderball or Arch Enemy to use that photo for commercial use, and certainly not without compensation. To our understanding, since there was nothing being sold or advertised in the posts, it was not commercial, but we still took his concerns seriously and immediately took the photo down. To be clear, this is not a photographer Arch Enemy hired, this is one of the hundreds of photographers who are in the photo pit at festivals. Once the photographer stated he wanted a fee for online use, we immediately (within minutes) agreed to remove the posts (which were online for a few days at most) so as to avoid any complications. If we were going to use a photo for any commercial application, we would pay them and there would be a contract ahead of time, like we always do and have done with hundreds of photographers.

Marta forwarded us an email from a lawyer saying she owed 500 euros, was in breach of copyright and the email included payment method information. Marta goes by the name Thunderball Clothing online and is a fellow musician, artist and one-woman clothing maker from Poland. We tried to explain that this photo isn't selling anything, it is showing off the custom outfit I am wearing, but the emails felt more and more coercive, so we simply removed the posts. There was no product for sale in the photo and no attempt to keep using the photo once the photographer stated his discontent. I understand that there are laws in place that dictate when and how a photo can be used, although promotional online use is usually appreciated, especially when it provides exposure for all parties involved. But, the photographer was unhappy with the reposts so we removed them, plain and simple.

We didn't want any trouble so we deleted the posts and thought that was the end of it since we had no contact since June. Normally, in my experience, people are happy to see the subject of their photo sharing their work and its a beautiful thing to be able to have one concert experience be a platform for musicians, lighting directors, clothing designers, photographers, sound engineers and fans alike all sharing in the art that is created.

All that happened here was I simply posted a photo of myself with full credit, watermark and tagging, then took it down when a lawyer contacted my friend who was among several pages that reposted it. Lots of fan pages are run by teenagers in countries where there may be different laws or a language barrier, who might not understand, and I didn't want them to end up with some lawyer's letter in their inboxes, and I know they like to repost things I post, so I just took it down. I'm not really sure why this non-issue has been twisted to scapegoat us 6 months after the fact, especially considering we simply did what he asked and the last interactions I had with him, personally, were pleasant.

We reserve the right, however, to decide who is allowed to photograph our shows and after having corresponded with him we didn't want any more issues like this in the future, especially when passes are limited and we know so many photographers who love having the opportunity to get a photo pass and have fun with us at shows.

In conclusion, no one from Arch Enemy nor Thunderball ever denied paying the photographer in question for the commercial use of his photo: We simply did not use it."