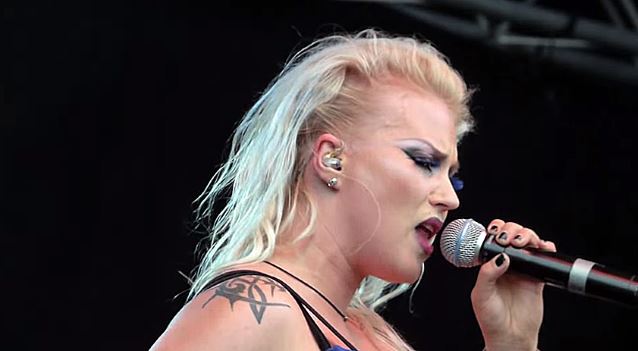 BATTLE BEAST vocalist Noora Louhimo has crossed the realm of mere mortals into the world of computer games. Having recently recorded the vocals for League Of Legends band PENTAKILL, Noora is proud to announce that Riot Games has created a new skin for her, titled "Pentakill Kayle". The new skin will be available in League of Legends soon. Listen to Noora's vocals on the new PENTAKILL track "Tear of the Goddess" below.
Noora commented:
"I've got some exciting and great news for all of you who love League of Legends and PENTAKILL's music! I've had the honor to take part in the new upcoming »Pentakill ll« album as the vocalist on the single 'Tear of the Goddess'. More amazing news about »Pentakill ll« coming soon!"
"Tear of the Goddess" is taken from PENTAKILL's forthcoming second album "Grasp of the Undying". Recorded in the catacombs of the Shadow Isles, the album was engineered and produced by Riot Games in Los Angeles, CA and London, UK; with mixing and mastering duties being handled by Jacob Hansen (VOLBEAT, HEAVEN SHALL BURN, EPICA, DORO etc.).