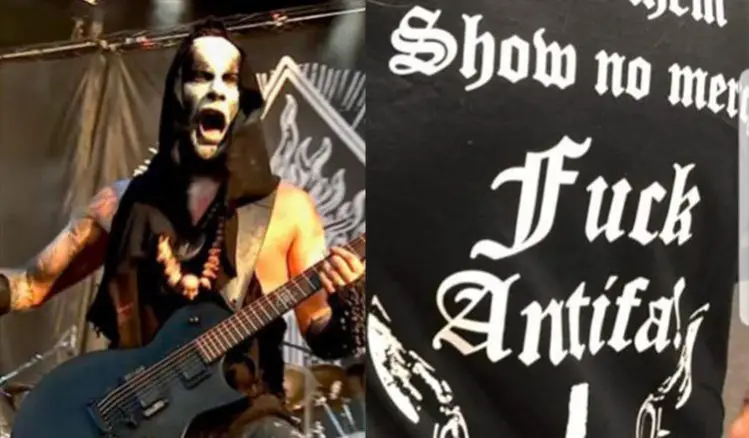 BEHEMOTH frontman Adam "Nergal" Darski has revealed his new "Black Metal Against Antifa" t-shirt.
He posted controversial t-shirt on his Instagram story with design showing a figure pointing a gun at the back of a kneeling figure, while the back on the shirt says: "Kill them. Show no mercy. F*ck Antifa!"
Nergal then took to social media to explain the shirt, writing: "Some people got confused by this post. Well, when I make anti-government comments, it doesn't mean I'm anti-Polish. It actually means I love Poland because I care about it.
"When I post someone wearing an anti-antifa shirt, it doesn't make me a N*zi supporter," he continued. I'm concerned about damage they make to the scene. The ideals are OK, but the execution of them is utterly incompetent.
He added: "Here comes the great paradox: Antifascist organisation being fascists themselves. Do you agree or…?"
In August, while on SLIPKNOT's "Knotfest Roadshow" North American tour, Nergal tried to get a workout in at a YMCA gym, but apparently his apparel and beliefs got him kicked out of the location before he ever set foot on a treadmill.
In an Instagram video, Nergal is seen filming himself getting into a car outside of an unspecified YMCA, and telling his driver, "Guess what happened? This is a YMCA, right? They saw my DARKTHRONE shirt, and then asked us, "Do you worship our lord Jesus Christ? …. and [we told them] we don't. … and they wouldn't let us work out in the YMCA here."