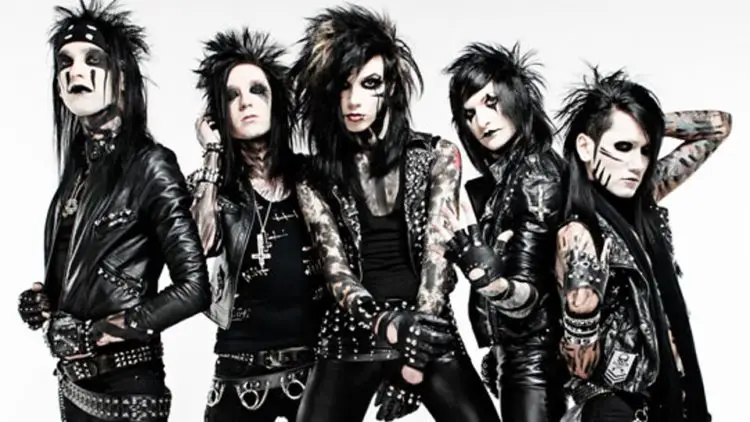 BLACK VEIL BRIDES bassist Ashley Purdy has denied ever saying in an interview that the band was planning to break up.
Purdy made headlines yesterday for saying during an appearance on a since-deleted "Another FN Podcast" episode that the forthcoming Vans Warped Tour dates would be "the last time" to see BLACK VEIL BRIDES.
"We are going to do eight dates through the southern California area," Ashley reportedly said. "That is where you are going to see BLACK VEIL BRIDES for the last time ever in your entire lives. So, you better f*cking go, because that's gonna be it."
Now, Purdy took to his Twitter account to give his side of the story, insisting that his words were taken out of context.
"Just for the record and clarification: And this is expressed in great humor," he wrote. "I never once said 'the band is breaking up,' as news outlets used as their headline to click bait you basically into reading way more into a story than it actually was.
"The misinformation came from a podcast that i was doing with a fellow musician and another industry colleague where we were just having a discussion about music and laughing and having a good time. It was basically a friendly discussion and less of an interview, but when someone did ask what's on the horizon for BLACK VEIL BRIDES, the honest answer is still the same.
"We have eight shows left on the final Warped Tour ever, so, again, yes, that's the last time you'll see us play there, and again, come see us now as this will be the last time. See the context.
"We have one festival show out in October and that's it, so yeah, that's all thats on the calendar and that's kind of how all of that got taken out of context. Very few listened to the entire podcast in its entirety before that headline quote of the band breaking up got blown outta proportion. Of course, for something newsworthy, it played into the dramatic.
"But honestly, it was a lighthearted and fun discussion that one news outlet just writes Ashley says 'the band is breaking up' and then so on and so forth everyone just takes that and runs with it again, out of context from the entire discussion and not the literal words I've ever said.
"Anyhow, Day 1 of Warped and we're all excitedly looking forward to performing for you all. 'See us now 'cuz you won't see us there again.' Lol"