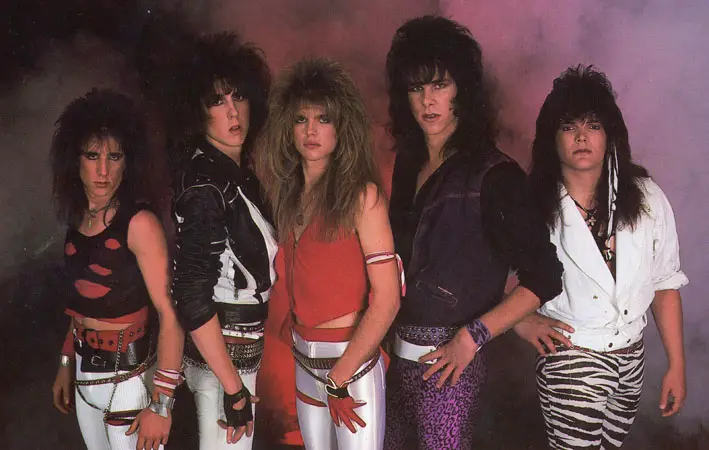 What would have happened, if … That's a question quite often asked regarding bands which did not fulfil their full potential. Leicestershire's BLITZKRIEG are surely one of these bands. Many devotees of the glorious New Wave Of British Heavy Metal have expressed the opinion that they probably would have had a serious chance of making it, had they managed to keep it together in the first instance.
Vocalist Brian Ross, guitarist and band founder Jim Sieroto, second guitarist Ian Jones, bassist Steve English and drummer Steve Abbey were invited to a two-day session at Neat's own Impulse Studios in February 1981. The result of this session was their now legendary debut 7" "Buried Alive" b/w "Blitzkrieg." "All David Wood wanted from us was a 7" single," comments Jim Sieroto today.
John Antcliffe replaced Ian Jones on guitar in June 1981 and it looked as if BLITZKRIEG were ready to step up a gear but unfortunately their "Blitzed Alive" cassette was to be the last official release of the original incarnation of the band.
Brian Ross was already making plans for 1982. But behind the scenes things were not looking good. BLITZKRIEG played one final gig at Tonypandy in Wales and then split on December 17th 1981. No more Blitzkrieg in 1982. Jim Sieroto and Steve Abbey had left the band, forcing Brian Ross to look for alternative employment.
In 1985, however, Brian Ross decided to re-animate BLITZKRIEG to record the album that never was – "A Time of Changes." He enlisted bassist Mick Moore, Jim Sieroto, additional guitarist Mick Procter and Satan drummer Sean Taylor. The resulting album for Neat Records was an excellent effort all around, and the fans were finally able to hear those legendary tracks such as "A Time of Changes," "Hell to Pay," "Vikings" and "Saviour" in addition to new versions of old favourites such as "Blitzkrieg," "Armageddon" and "Inferno."
"All I did on the album was overdub a couple of guitar solos onto backing tracks," adds original guitarist Jim Sieroto today. "This was done at Impulse Studios at Wallsend right at the end of December 1984. Brian Ross was the one who organised the album. I was in the studio with just him and an engineer. The album closely followed what would have been on a BLITZKRIEG album in 1981. It is to Brian's credit that he chose most of the tracks from the original band instead of just coming up with new stuff."
Read our review here.