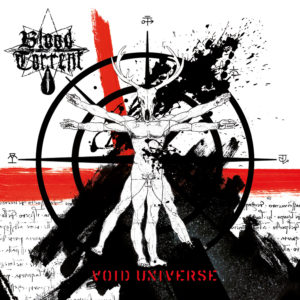 Hey, that's an unexpected album. By its initial track the fan can't get what's coming. The album changes a lot the mood from then on. It's initial moments sound a little as Judas Priest's "Turbo Lover" – nah, I like this album, okay! – with its electronic effects and a kind of futuristic sonancy. "The Renascence" is slow and moody with a harsh voice that recalls a lot Venom's Cronos. This intro connects with "A Knowledge of Light" that follows the same vibe. By the way, as I quoted the band and the man there are a lot of references of Venom in "Void Universe" that one can tell. Let's say "Void Universe" is a persona from Venom's "Black Metal" or any other. The mood and the guitar tones are very much alike. To be more especific it reminds me "Buried Alive" and all the mooding in it. The same as the attitude. I can't tell but while hearing it for the first time Venom got into my mind. That debauchery and anarchic felling Venom pass in their albums.
From then on the album gets a little rougher and wilder. The pace goes faster and the drumming gets near the speed of light. High velocity drumming in "Decay and Transformation" the combination of Venom's harsh vocals with the speed and fury of modern Extreme Meta but with all the finesse as a plus. Maybe where Venom meet Bathory. The guitars are fantastic. Pure NWOBHM. Pure Mantas. Then unexpectedly the song goes on high chance getting as moody as the previous track to change again and end with a pure carnage. I just the malevolous cadence of "The Cosmic Breakdown" the way the guitars go is just fantastic. a kind of moody Extreme Metal track. Again maybe the lost link between Venom and Bathory. The taste of the 1980s is so present but there is something modern in it. The guitars emulate so well the atmospheric tones of the 1980s.
The sonancy of "Void Universe" is very unexpected as I told before. Unexpected because it's so uncommon these days. This combination of a harsh and acid NWOBHM with Extreme Metal isn't exactly new but it's kind of forgotten. The modern feeling I got maybe from some Atmospheric Black Metal bands I've heard before. The feeling is the same, the sound more or less but I guess the fan can have a pretty good idea of what I'm talking about. Not to forget the thematic of the songs are inspired on esotheric and space elements as Atmospheric Black Metal bands. Blood Torrent did a nice job here.
Blood Torrent "Void Universe" was released on April 08th via Trollzorn.
Track Listing:
The Renascence
A Knowledge of Light
Decay and Transformation
The Cosmic Breakdown
Elemental Scorn
Necromass
Raised Knives
Phantom Propaganda
Prisma
The Strive
Watch "The Cosmic Breakdown" official video here: