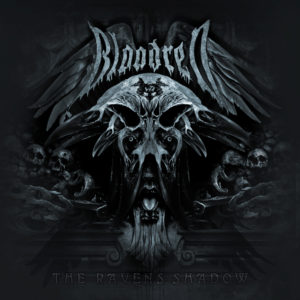 One more Modern Black Metal band in a role. That's the third and it seems I can't get enough because they were such good bands to follow. Right from the start the grand opening with some soundscapes very well put and a title track "The Raven's Shadow" with lots of twists and a great instrumental. Ah, besides all the vocals variations. Good sign! Very good signs!
What sparks the attention of the fan in "The Raven's Shadow" is the formidable instrumentals. Bloodred vary a lot the moods and techniques. Title track "The Raven's Shadow" starts with a catchy 1990s Extreme Metal mood with all the strumming and guitar variety. Tempo and cadence change a bit also during the song as well as vocals. Second track is a little more standard, but still a great track faster than the other with a great drumming. By the way, the drums' quality goes in a crescendo during the album. It seems that drummer Joris Nijenhuis little by little sets his arms free to punch as in third and fourth tracks "Hör Den Tod" and "Blood on Thy Hands," which is a drumming massacre, if you ask me due to the violence the man imposes to his drum kit. His skins deserve a break after all the pounding and punching they had in the album. If "Hör Den Tod" has a Melodic Death Metal mood and atmosphere, "Blood on Thy Hands" is much more violent and fast. It would remind a lot Death Metal classics if it weren't for the so neat and beyond average instrumentals. It's a staple of the album this killer and beyind human way of playing. The guitar phrasing by the end of "Raise The Mound" that bridges to a different mooding is the brazen reason for a new change of hearts in the song. The track ends very differently from what it's was supposed to in a slow and gloomy way. Bloodred manage with prowness all the changes in the songs. It's not easy to manage the truckload of changes they impose to their music. But, as far as I'm concearned, it's the heart of the glorious music. It's hard to deny it. Fun fact, "The Raven's Shadow" has exactly 50 minutes. Wow! Who was in charge of the timing?
"The Raven's Shadow" is worthy any minute the fan decides to spend listening to it. If you are a fan of an extremely well-done Extreme Metal band, Bloodred is the answer to your prayers.
Bloodred  "The Raven's Shadow" was released on May 18th.
Track Listing:
The Raven's Shadow
Immense Hall of Agony
Hör Den Tod
Blood on Thy Hands
Raise the Mound
We Who Ruled the North
Shadow Warrior
Under This Sun
The Northstar Whispers (to the Blacksmiths Son)
Watch "The Raven's Shadow" official video here:
895