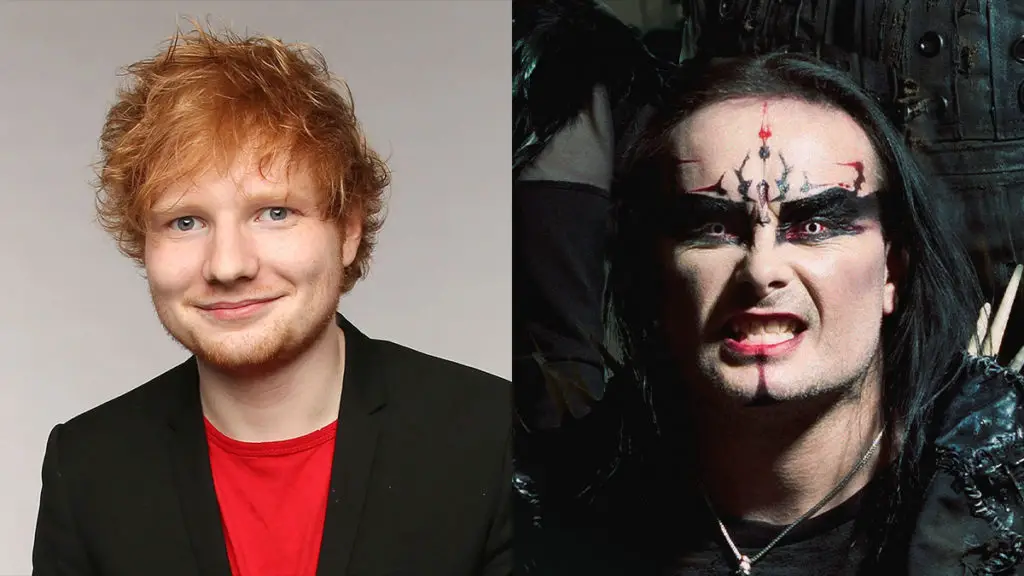 In an interview with Metal Hammer magazine, CRADLE OF FILTH's frontman Dani Filth discussed the highly awaited collaboration between his band and pop superstar Ed Sheeran.
"Ed's done all his parts," Dani said. "It's just bass and vocals for me to do on my return to England after Easter. It's exactly how you can imagine it'll sound, if you can imagine Ed Sheeran with CRADLE OF FILTH. He plays acoustic guitar on it, but it's heavy; it's got a blast beat in there. The plan is to do it as a charity single. We're hoping for it to be out by the summer."
On what it's like being friends with a pop star, Dani said: "Weird. I've spoken to him very regularly over the last two years. Like me, he's a real Suffolk boy. When he came to the studio that day [in December to record his parts], he didn't come down with a cavalcade of reporters: he turned up on his own, guitar on his back, CRADLE OF FILTH hoodie on, and got on with it. It was f**king great."
This past December, Filth posted a photo on his Instagram account which showed him dining with Sheeran and producer Scott Atkins. Accompanying the post was a following caption: "A little over a week ago I was having lunch with the unlikely lads, having just done something fun."
Last August, Dani spoke with Knotfest about his collaboration with Sheeran, saying: "[Ed's] done some of it, but then he had a baby, and then he got obviously sidetracked with that and doing whatever Ed does, which is play massive shows around the globe. He's not at our beck and call. But he is gonna finish it, he assures me. Actually, I spoke to him quite recently."
Sheeran previously revealed that he is "not opposed to creating" death metal record.
"I was really into death metal as a kid," he said in a last year's interview with The Sun. "I listened to CRADLE OF FILTH and SLIPKNOT and all that stuff. I'm not saying I could ever step into that world. I learnt all those riffs on guitar as a kid. That's something I've never thought about doing — but something I would not be opposed to creating."