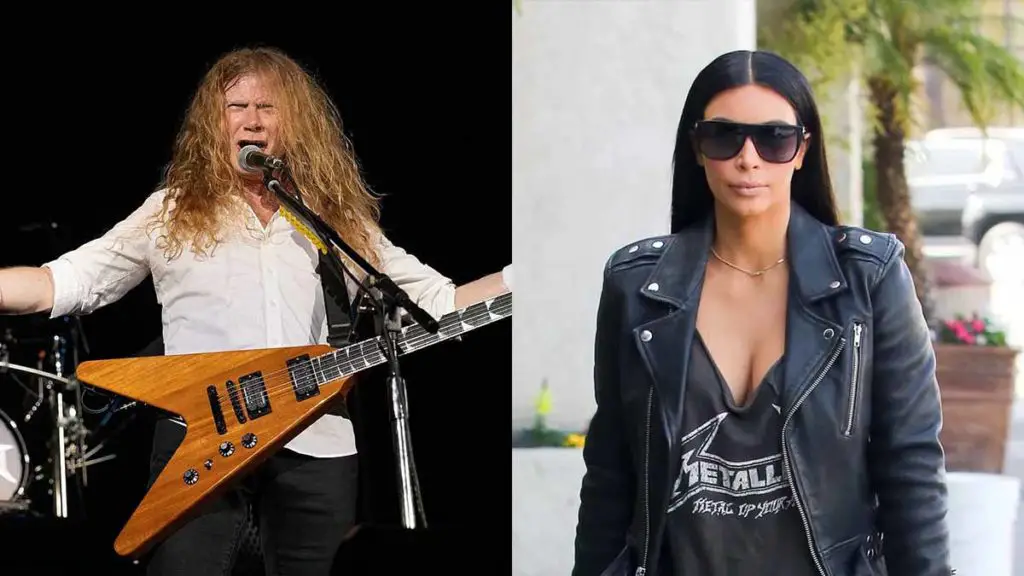 In a recent interview with Rolling Stone, MEGADETH mainman Dave Mustaine revealed that he is not happy how Kardashian family inspired some to buy metal merch, even though they aren't real fans of the music.
Mustaine shared a story about an encounter he had with a girl wearing clothing with MEGADETH logo on it, while talking about band's new song "Celebutante," which will appear on MEGADETH's upcoming studio album.
This new MEGADETH song apparently involves name-dropping women who'll "do anything for fame." Mustaine ends up going into a story where he ran into a woman who was wearing clothing featuring the MEGADETH; upon talking to her and her friend though, he found they were very much not fans of the band.
"I just saw one of those little monsters just the other day," Dave says. "I was walking down this cute little pass in Eindhoven [Holland], and I see these two young girls, walking, and one of them had a dress on that had MEGADETH logos all down the front of it. And I went, 'Oh, wow.' I said, 'Hey, that's my band.' And she looked at me like, 'Get away from me, you pervert.' And I looked at her and I went, 'No, no, no, no. That's my band.' And she puts her hands up and starts waving me off, like an airplane coming into the jet way too fast."
At one point, MEGADETH's tour photographer asked the ladies for a picture, but they told him, "I don't know the band. We just got this in a boutique down the street. We don't want to give you our f*cking pictures."
Mustaine then added: "I said, 'She was probably just one of those little celebutante chicks that got it when the Kardashians were wearing SLAYER's T-shirts."
MEGADETH will cap a summer of successful global touring with the release of its highly anticipated sixteenth studio album, "The Sick, The Dying… And The Dead!", on September 2 via UMe. You can pre-order album here.