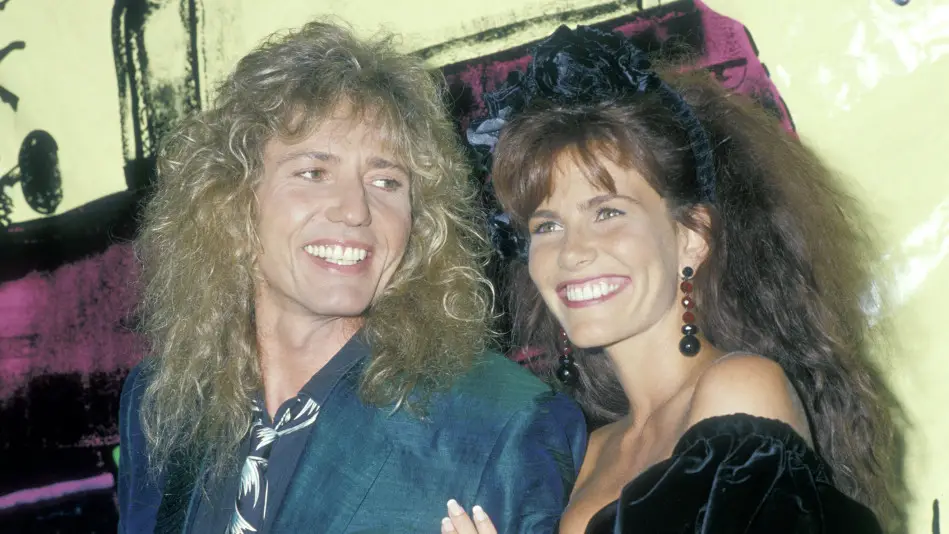 Actress Julie E. "Tawny" Kitaen, who is best known in the rock world for her appearance in WHITESNAKE's music video for the famous single "Here I Go Again", has died at the age of 59. According to Variety, the Orange County, California coroner's office, which listed her as Tawny Finley, stated that she died at her home in Newport Beach on Friday morning (May 7), but a cause of death has not been revealed.
While WHITESNAKE was working on it 1987 self-titled album, the band's lead singer David Coverdale started dating Kitaen, who had recently starred opposite Tom Hanks in the movie "Bachelor Party". Kitaen soon appeared in few of WHITESNAKE's music videos, including those for "Here I Go Again", "Still Of The Night" and "Is This Love". Footage of Kitaen writhing around on the hood of a Jaguar in the "Here I Go Again" clip has been called one of the most iconic — and sexiest — video moments ever filmed.
David Coverdale and Tawny Kitaen tied the knot in 1989 but the union only lasted two years. Kitaen married baseball player Chuck Finley in 1997 and divorced him in 2002, not long after she was arrested for allegedly attacking her husband in their SUV a few blocks from their home. According to the Los Angeles Times, Tawny Kitaen pleaded not guilty to the charges of domestic violence, and the case was dismissed in 2003 after she attended court-mandated counseling. When she and Finley divorced, she released a statement saying she was being treated for a dependency on prescription drugs and vowed to become "the healthiest and the best mother possible" to her two daughters.
Prior to hooking up with Coverdale, Kitaen appeared in RATT's "Back For More" music video. Kitaen was dating RATT guitarist Robbin Crosby at the time. She was also featured in several reality shows, including "The Surreal Life", "Botched" and "Celebrity Rehab With Dr. Drew".