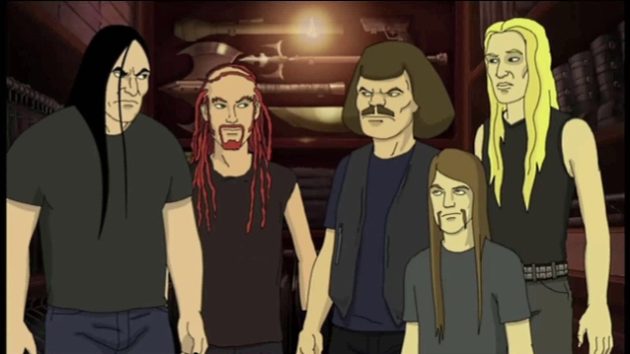 DETHKLOK, the stars of the Adult Swim series Metalocalypse, will co-headline the 2022 Adult Swim Festival Block Party, set to take place August 5-7 in Philadelphia, Pennsylvania. DETHKLOK will play on August 7 at The Fillmore. Also scheduled to headline the event are RUN THE JEWELS (August 5 at The Fillmore) and TIERRA WHACK (August 6 at The Fillmore).
DETHKLOK last performed in November 2019 as part of the Adult Swim Festival at the Banc of California Stadium in Los Angeles. The show marked DETHKLOK's first live appearance since taking part in the 2014 edition of Festival Supreme in L.A. DETHKLOK played a 19-song set that included live premieres of the tracks "Impeach God" and "Comet Song." Joining mainman Brendon Small (guitar, vocals) at the gig were Gene Hoglan on drums, Nili Brosh on second guitar and Pete Griffin on bass.
The news of DETHKLOK's return comes after last year's announcement that a brand new Metalocalypse movie is in the works, but there is not much information on that yet.