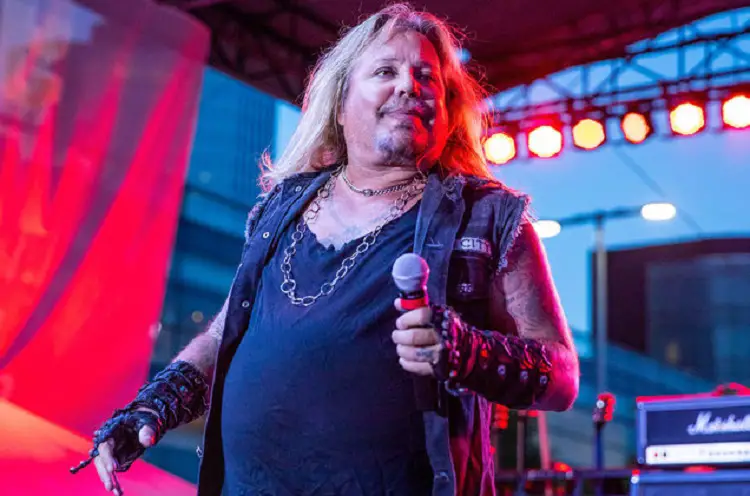 MÖTLEY CRÜE singer Vince Neil has not been at his best shape in recent years, to say the least.
After last year's drunken cameo going viral, his recent trouble with voice that led to cancelling several shows, and latest incident when he fell on stage resulting in breaking his ribs, now comes a new revelation by former MÖTLEY CRÜE limo driver Al Bowman, as a member of their "inner circle" during the CRÜE's heyday, has officially confirmed that Vince is currently drinking himself to death.
According to a recent article by The Metal Den, Bowman states that the CRÜE's satanic parties were held at an "Ivy-covered little old wooden house with darkened windows."
Bowman goes much deeper in detail and says that Vince Neil's life of incredible excess, along with practicing "dark arts" while binging on "demon alcohol" has reduced the once great glam metal lead singer to a sad, broken down human being.
Furthermore, he claims that Vince Neil is in the worst shape of his career and implies that 60-year-old rocker is drinking himself to death.
Bowman's full interview with Ed Opperman can be listened below.
Neil is currently "back home and resting" after breaking his ribs during a concert this past Friday (October 15) at the Monsters On The Mountain festival at LeConte Center in Pigeon Forge, Tennessee.
The incident occurred early into the set — while the band was performing CRÜE classic  "Don't Go Away Mad (Just Go Away)." In fan-filmed video of the incident, which can be seen below, Vince can be seen encouraging the crowd to clap at the end of the song while taking a step or two forward toward the front left side of the stage before losing his footing and falling off.
A short time later, bassist Dana Strum addressed the crowd about the extent of Neil's injuries, saying: "The truth is Vince fell and broke ribs when he fell. He can't breathe… He was so excited to be here. He lives in Tennessee. But he was willing to stick it out and tough it out… Let's have one good round of applause, please, for this guy."