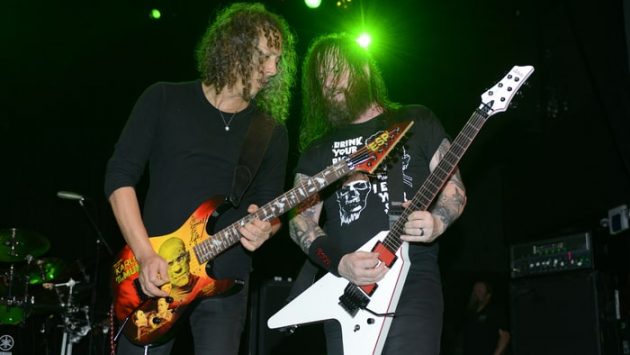 During a recent interview with RadioactiveMike Z, EXODUS guitarist Gary Holt was asked how he first met METALLICA guitarist Kirk Hammett, who is one of founding members of EXODUS.
"The first time I met Kirk was in my high school music room, Richmond High, and EXODUS came and played," Holt responded. "[Original EXODUS drummer] Tom Hunting grew up, like, 50 yards from my house, across from a park, but he went to a different school — he went to De Anza High, where Kirk did. I knew Tom, I'd see him around, but I didn't know him that well. But I was really good friends with the other guitar player in EXODUS, Tim Agnello, who I did know.
"And they came in and played in the music room, and it was awesome. Even though Kirk sang [SCORPIONS'] 'Another Piece Of Meat,' and it was just really awful, as you can imagine — Kirk Hammett trying to sing Klaus Meine at his greatest; it was bad. But there was something about… Even though I'd been to many concerts, being in a room and hearing an electric guitar that up close and personal, it was kind of like a special moment for me, 'cause I'd never experienced it. I'd only seen guys onstage; I'd never stood five feet away.
"And it was killer," he continued. "I totally [knew] that's what I wanted to do. And then we went to see Ted Nugent and the SCORPIONS together, and we became best of friends from that first time we hung out. And then he said, 'You wanna learn to play guitar?' And I said, 'Yeah.' And he taught me the basics and some chords. I think the first thing he ever taught me was some ROLLING STONES song and a couple of licks and all that, and six months later I was in the band."
When asked if he had a favorite METALLICA song, Gary responded: "I'd have to go… I've got a lot of favorites — that's one of those tough questions — but one that's always near and dear to my heart is 'Damage, Inc.'"