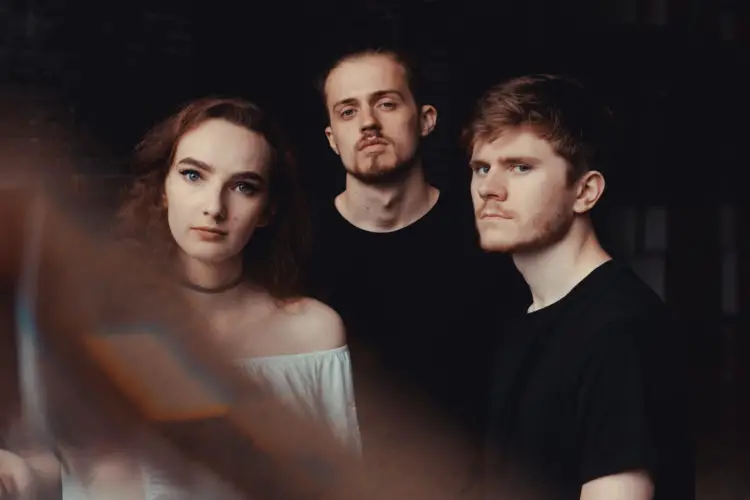 Rarely are new groups as exciting, talented or unique as Exploring Birdsong, the piano-led guitarless trio from Liverpool. Straddling progressive rock, pop, and uncategorizable genre-blending beauty, the band deliver with their debut EP "The Thing With Feathers." The release follows the success of singles 'The Baptism' and the one-take a capella version of the classic '(Don't Fear) The Reaper.'
Rarely too do you hear voices as captivating as frontwoman Lynsey Ward's. Powerful, controlled, and spine-chillingly tender, Lynsey's vocals help mark Exploring Birdsong as a prospect to watch, not least in the staggering 'The Downpour,' described by the band as "our Great Gig In The Sky". Also playing keyboards, she is backed by the jawdropping talents of Matt on drums/percussion and Jonny on bass/second keyboards (sometimes playing both bass and keys simultaneously).
The EP is broadly speaking a concept release, centred on the Seamus Heaney poem 'Bye Child' and the story of Kevin Halfpenny, one of the most bizarre cases of child cruelty ever recorded. This is mirrored in the EP title and cover art, with broken backbones becoming broken wings. The title itself also references Emily Dickinson's "'Hope' is the thing with feathers" poem, which itself is a call-back to the music found within:
"Hope" is the thing with feathers – That perches in the soul – And sings the tune without the words – And never stops – at all –
Having recently graduated from Liverpool's Institute of Performing Arts, the young group have already caught the eyes of key players in the UK press (Prog magazine, Kerrang! Magazine, Classic Rock Magazine) as well as achieved two Progressive Music Awards nominations in 2019. The band have been hand-picked to support Sleep Token, toured with proggers Godsticks, and performed at HRH Prog. Unplaceable for the most part, the band bring to mind elements of Steven Wilson, Kate Bush, Rush, Sleep Token, and Agent Fresco.
EXPLORING BIRDSONG are:
Lynsey Ward: Vocals, keyboards
Jonny Knight: Bass guitar, keyboards
Matt Harrison: Drums, percussion
Read our review here.