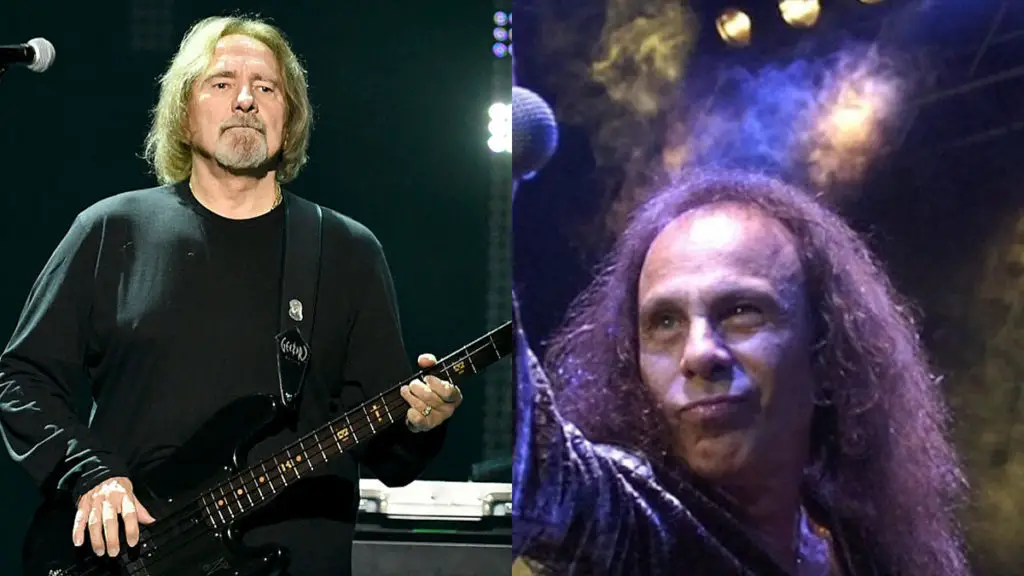 In a new interview with BraveWords, BLACK SABBATH bassist Geezer Butler talked about the reasons singer Ronnie James Dio left the band in 1982, after two monumental albums — Heaven and Hell (1980) and Mob Rules (1981).
"One of the reasons why it started to go sour was that Ronnie negotiated a solo deal with Warner Brothers while the success of Mob Rules was happening," Butler said. "So that sort of soured the whole thing. Then we just plowed on with Ian Gillan after that.
When asked why would Ronnie spoil the band's next level of success, Butler responded: "If you are going to get offered a good record contract, you aren't going to turn it down are you? I think Ronnie started believing because of him, SABBATH were viable again. So towards the end of the Mob Rules period, Ronnie thought because of him, SABBATH was doing well again. He thought he was important enough to go solo. He didn't need the rest of us." 
In a recent interview with The Metal Voice, drummer Vinny Appice reflected on his time in BLACK SABBATH in early 1980's and why he and Ronnie James Dio left the group in 1982.
After the interview asked why the band fell apart after 1982's Live Evil live album, Vinny responded: "I don't know. Everything was going great, and I don't know exactly what happened as far as why it split up. All I know is that one day Ronnie came to me and at the end of the tour — and we're recording it — all of a sudden it became like, we had limousines, limos, and it would be the American limo [for Ronnie and Vinny] and the British limo [for Tony Iommi and Geezer Butler].
"Stuff like that started happening, and I was like — I'm in the middle, I didn't matter, I would go in the British limo, and they're all my friends and family, so it didn't matter to me so much. But obviously they had probably some business disagreements, I'm not sure. When that tour ended, Ronnie said, 'Look, I'm gonna put a band together. I'd like you to join me — if you'd like to do it.'
"And SABBATH wanted me to stay, so I had a choice. I just thought it would be exciting to do something with Ronnie. I mean, he's the man, and we live miles apart, it was easy to do something here, while Tony and Geezer were in England…
"So I had to have a talk with everybody and I decided to go with Ronnie, so it's got to be a business thing, it was never a musical thing. SABBATH was SABBATH, we're all on the same page."
Asked about the recording process of BLACK SABBATH's Mob Rules (1981) album, Vinny said: "Well, the good thing with The Mob Rules — we were on [1980's] Heaven and Hell album tour, and we did a song for the movie Heavy Metal, Warner Brothers asked the band to do a song for the movie, and they accepted it.
"So we were in England, touring, we had a couple of days off, so we went to John Lennon's house, he had just passed at some point before that. Ringo [Starr] owned it [the house], and we went in this big mansion, and that was very cool, and actually we put together the ideas and wrote the whole thing there. We did it in like two days, and the thing was finished and mixed and kicking a—s.
"The band was really excited — a new drummer — because I'm the only drummer that Tony and Geezer played with after Bill [Ward], that's why Tony was a bit nervous. So that was a good foot in the door, like, 'Oh, we just recorded this song, everybody loves it, the record company loves it.'
"And then it made it easier for when we finally got around to writing the rest of the Mob Rules album in LA, we just go in every day and jam, nobody ever came in with songs written," he continued. "Same with Dio too — all the Dio records, nobody came in with a song and went, 'Hey, I got this song 'Holy Diver.'
"'Holy Diver' was a riff with two parts to it that Ronnie came up with, and it was just me and him jamming on it and different parts together and accents and different things like that. So basically Mob Rules was sitting in the room, jamming together, I would always record the stuff, and we'd play it back and go, 'Oh, that sounds good, let's work on that. Let's listen to what we did last night, find something to work on.' So that's the way the album was put together."