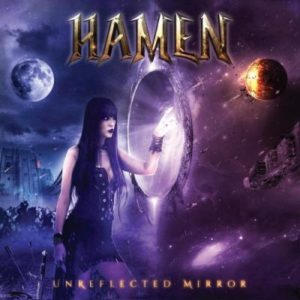 One of the many things I keep on telling here is that Heavy Metal is a musical movement. That statement has many meanings even for good or for worst. One of them is that we, heavy metallers of all kinds, like above all things well-played music. We love shreading guitars, flamboyant singers, skilled drummers, and slapping basses. This enriches our music, it makes it more palatable. On the other hand, as a paradox, we also like it raw. The rawness of the music still pleases us. This is one of the many controversies in Metal, in a dialect matter.
All that put, what does all this have to do with Hamen "Unreflected Mirror"? It's impossible to hear "Unreflected Mirror" without paying all the due attention to Monica Posel's voice and all the vocal features herein. Have you noticed that in tracks "Intimate Future (Invasive Feelings Part I)" and "Lost Feelings (Invasive Feelings Part II)" there are poems; one in Portuguese, and the other in Italian? A very complex way of dealing with lyrics and vocals all the time. Hamen are complex as all Symphonic Metal bands. But it's not only adding some keyboards and a soprano that makes a Symphonic band. Hamen offer much more than this if you pay close attention. It takes much more. Bands know that, and sure do Hamen too. The thing is; Hamen play with all the aforementioned the complex and the raw.
I know it may sound absurd, but even in a Symphonic band there are rawness moments. The fact is that Hamen play with them very well, so well that it's not possible to notice them easily. But they are there. Sharpen your ears and find them in "Unreflected Mirror" as a great exercise.
Hamen "Unreflected Mirror" was released in 2018.
Track Listing:
Watch "Altar" official video here: