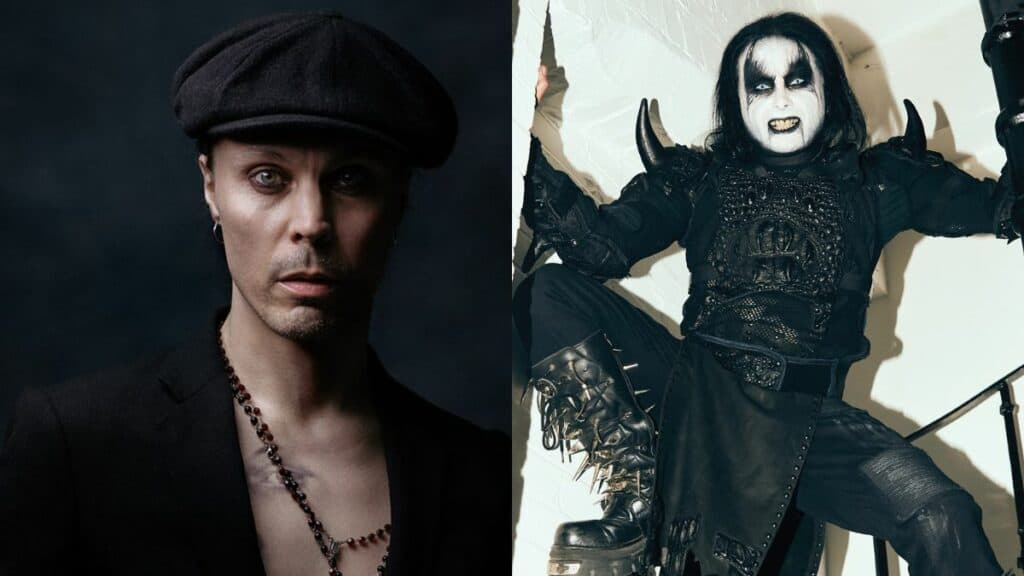 The HIM frontman Ville Valo reflects on how his overindulgence led to a less-than-desirable first take of his collaborative song with CRADLE OF FILTH, as well as the state of his relationships with Dani Filth.
The spiked collars, death rockers and all around goths of the early 2000s had two required bands in their music library: HIM and CRADLE OF FILTH. So, when Ville Valo and Dani Filth combined musical forces for Thornography, the 2006 album following up to CRADLE OF FILTH's 2004 classic Nymphetamine, many felt as though Halloween came early.
In a new interview with Metal Hammer, Valo recalls botching the first take of "The Byronic Man" after partying a bit too hard.
He said: "We actually ended up doing it twice, because the first time around I was so drunk that it turned out really bad! Dani invited me to sing on that song and we got the files when we were out on tour. I remember we rented a studio on a day off and I kept on pounding Stella Artois, 'til I sort of passed the Byronic level. I went too far with all that bohemian crap and it didn't sound too good, so I ended up re-singing all of that stuff back in Helsinki."
Valo's return is much anticipated with his new solo album Neon Noir, but fans shouldn't expect another collaboration with Dani Filth.
"We fell out [laughing]. No, but we both grew up a bit," he said. "I last saw Dani at a Hammer party somewhere, many many years ago. A lot of the time in bands, especially if you keep touring, there's just no time.
"You're always somewhere else when they come to your hometown, and so on. It's quite a shame, but it's also nice because there's so much time in between that when you get the opportunity to meet your old friend, there's a lot of war stories to tell. A lot of scars to compare; it's part of what we do. I'm glad I was invited into the realm of his, both physically and metaphorically, because I'm a fan of what they do, and it was a special treat. I'm a fanboy and that's the stuff that keeps me going."