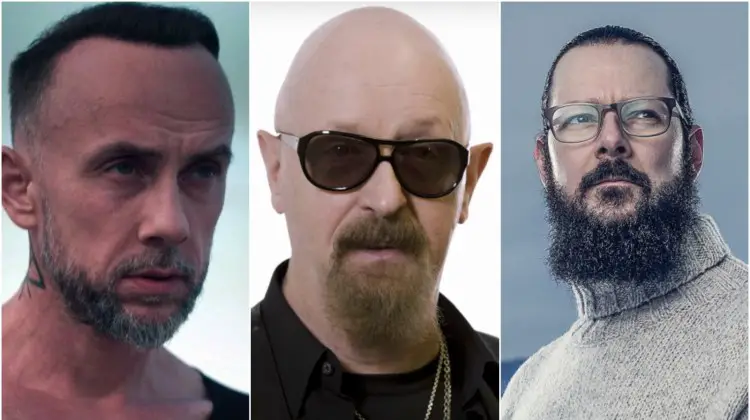 During a recent interview with Kaaos TV, Ihsahn addressed the possible collaboration with Rob Halford that the JUDAS PRIEST singer had mentioned a few months back, saying: "I actually talked with Rob about this project… He approached me… that's quite a long time ago. I think I met him the first time in 2001 or something. But, of course, as he said in so many interviews as well, the situation with him being back in PRIEST since that time, and my schedule, doing both bands [Emperor and the solo project], it's one of those things. But at some point, that would be great. When the god of metal calls, that's not something you want to miss.
"Then [Rob] met Nergal from BEHEMOTH as well, and he [discussed a possible collaboration with him as well]… Because he's a big fan of black metal – Rob – so at some point, he just wants to do something, as I said, tip his toe in the water with that kind of expression.
"So if time allows and fate will make it happen, and, for example, me, Nergal and Rob would come together – Nergal from Behemoth is also someone that I have great respect for, a great artist – I think that would be amazing."
Ihsahn then pointed out that if the project would actually come to fruition, it would have to be something special. He said: "It's not something that you just would throw together, because I think those kinds of collaborations where it's just putting names [on an album don't work]. You need to do it properly. And I think all of us, the way I know them, I think that's their mindset [as well], where [we all think] it would have to be done properly. I think we would be very much on the same page on that."
Earlier this year, Halford told Noisey: "The black metal project! It keeps being about to lift the launchpad, but it never quite gets anywhere. I met Nergal from BEHEMOTH recently, and I said, 'You know I love your kind of music. I would love to kind of put my toe into the water and see what would happen.'
"So now I've got these two very nebulous, but I hope at some point very real opportunities, to do something with Nergal and still something to with Ihsahn.
"'Anthems to the Welkin at Dusk' – that's my big EMPEROR album. Both of them are incredible; they just have this real mastery of their world."