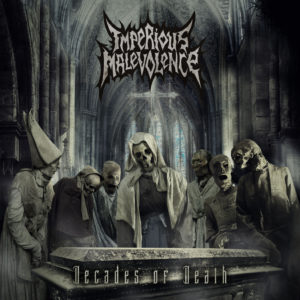 The first thing calling the eye in Imperious Malevolence "Decades of Death" is the deep dark vocals. It gives exactly the idea the name of the band wants to pass us. Fernando Grommtt is really an initiated in the dark arts. No need for further efforts in order to make "Decades of Death" heavier and stronger. Of course, the twenty-three years of underground march paid off. Imperious Malevolence are a very mature band. The dudes really know how to be real aggressive. Real veterans of the dark arts.
"Decades of Death" is what the title preaches. Ten tracks of the purest aggression and transgression. Imperious Malevolence show us how underground bands have learned to deal with the struggles. Their material is really neat and well-cared. In terms of music, "Decades of Death" is a cruel piece of a raw death band. Imperious Malevolence don't try to play a dazzling and intricated music. They play simple, but effective. Even though, this album is full of complex emotions. Lyrical content goes by human suffering because of its perpetual ignorance. Imperious Malevolence destroy our self-esteem. They leave only a lifeless ground behind. A pile of skulls and bones. Imperious Malevolence show no mercy. Only the cruel and vicious reality. Does anybody need anything else?
Well, what we have here is a power trio that knows the path. We all know it's not easy to cope with the excruciating reality we live in. The pain is sometimes so lively that almost makes us surrender, but we can't do that. We owe that to the young. We must show them there is something else. This world is by no reason lovely and colorful as they try to make us believe. It's great we have Imperious Malevolence to makes us get real.
Imperious Malevolence "Decades of Death" was released via Sangue Frio Records.
Track Listing:
Perpetuação da Ignorância
Ascending Holocaust
Ominious Ritual
The Hellfire's Cruelty
Nocturnal Confessor
Where Demons Dwell
Imperious Malevolence
No Return
Excrutiate
Arquiteto da Destruição
Watch "Omnious Ritual" official lyric video here: