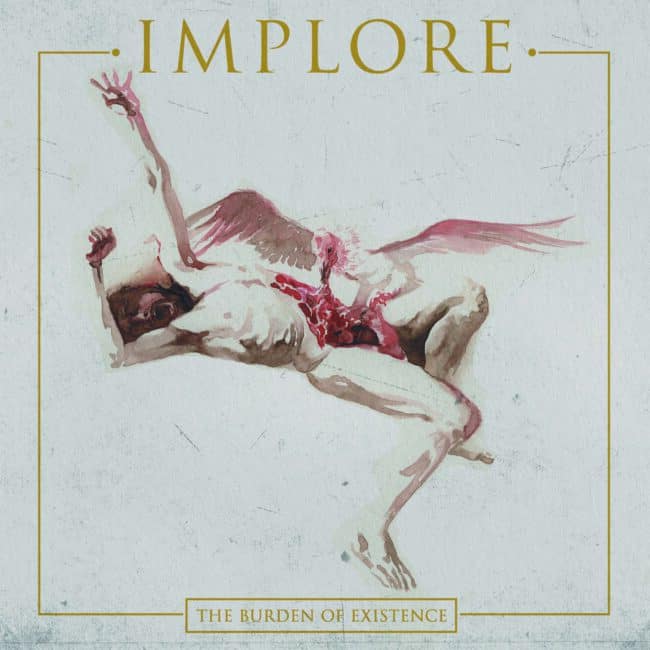 It's simply fantastic when an album is kicked off by a skull crushing Death Metal drumming pounding full of blast beats with "Prior Void." Besides that a sepulchral voice from the seven depths of hell and the guitars that crash and smash all the wimps' hope. Ok, for starters, just a warning this Implore with "The Burden of Existence" isn't for the faint at heart. Here's the band Death Metal gets right near the border of Grindcore's mayheim. Maybe the band is right in the middle of both subgenres with tracks that do remind both in fury and destructive power. Of course, as a Death Metal band in essence Implore hit their instruments with some finesse and technique. The band also triesd different tempos and cadences as in "Accept the Loss" where the drums and the guitars goes a little Speed Metal in spirit to get into a mood that comes from the undead Doom Metal. Implore's strong suit is to mix all those killing influences to something unique in speed and power allowing the band to be both what is a very hard thing to do. Or a band is fast or it's powerful and heavy. Both is a little difficult, if you know what I'm talking about.
When I said Implore hit their instruments with some finesse and technique I was talking about tracks as "Sun Deprived" which combine both with an intriguing guitar and a drumming that goes very beyond the usual. Coming to think of it, has my child of the night ever considered what is to be "Sun Deprived"? I soon start to think hidden or lost or caught in dark place where not even the sun dares to appear. A place where real darkness reigns not allowing any kind of light to show. I'm getting a little claustrophoic now…
Also very impressive is tittle track "The Burden of Existence" and the message the tittle wants to pass. I guess everyone here in this sad and lonely pathetic little planet has ever given a thought about what is the burden of existence. For some it's heavier than the others. It's hard not to think of it in philosophical way or even religious. The track manages flawlessly to capture this idea and make it real to the fan. By the way, the magnificent cover art tells this story as well.
Now let's say a few words about Carol Lieb's vocals. The guy gets to do it with a very distinctive way. His voice goes from the Hardcore pure of heart to the Black Metal's despairness in a snap of a finger. This gets easier to get when my dear child of the night listens to "Love Will Gradually Perish" and its uncomparable mood. Here the band showcases more influences that the fan can really imagine. The guitars get enmeshed with vocals to express all the anguish the lyrics desire to pass to the fan. An Extreme Metal masterpice where emotions reach a level that very few are capable to understand. Well, that's the idea, isn't it?
Implore "The Burden of Existence" will be released on October 28th via Church Road Records.
Track Listing:
Prior Void
The Burden of Existence
Archetype
Masochistic Tendencies
Accept the Loss
Sun Deprived
Failure Through Self Preservation
Ultimate Freedom
Love Will Gradually Perish
The Sense of Endings
Watch "The Burden of Existence" official music video here: