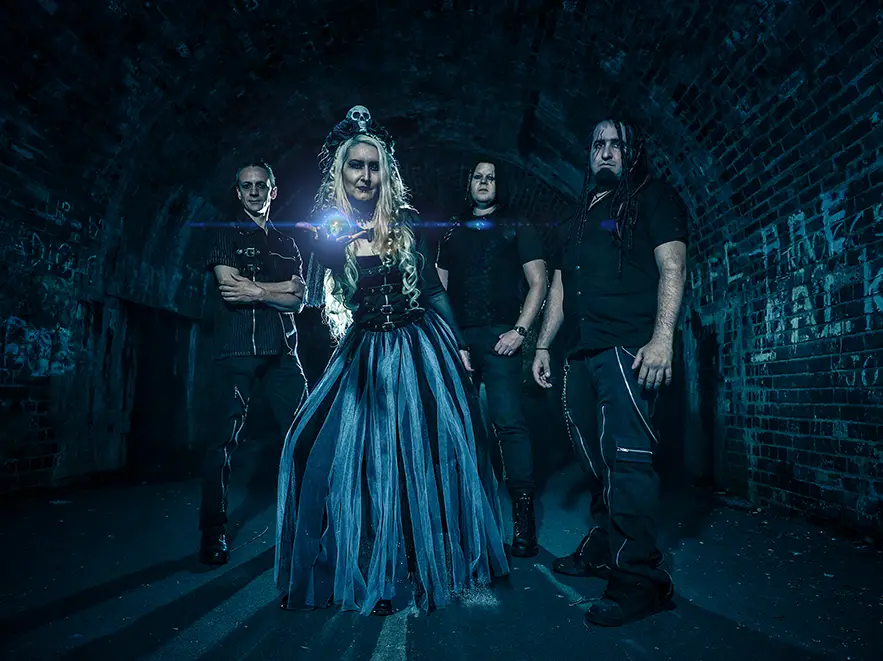 Below follows the interview with ELKAPATH, a band from UK:
How you guys met and started the Band? And who are the members today?
Hello there!!!
We are:
Carla Elkapath – Vocals, songwriting, keys
AJ Marios – Guitars
Trevor England – Bass
Chris Horwood-Jones – Drums
We been known each other for a long time and when Carla decided to make her project a full band we all jumped on board in 2019!
What caused you to understand that music was your way? 
We always liked to play music! Is our way to express our self, something that we absolutely enjoy from every aspect!
What's the biggest problem you've had to overcome so far as a Band?
Must have been the pandemic!!
Such a weird and challenging times! However, we believe that is almost there! Gigs have started and something like normality is back! Now we only have to let the time do its thing!
How do you describe your music to people?
We do like the term Synthetic Goth Metal!
We believe that it can describe our biggest elements of electronic, dark and powerful music!
Your latest and I think also your 1st album "BLACK SPIDERS" will be release in Oct 2021 from Symmetric Records (Bob Katsionis) how do you feel about this?
What does the album's title reveal?
It feels great we must say! Working closely with a legend like Bob by itself is a lifetime experience, and having him and his Label supporting us definitely makes things a lot better!
The album title reveals one of our favorite songs! Along with the vibe you will witness once you play the album in its entirety!
What are your songs about? Are there any specific themes that they cover?
We do write music for a lot of different things, from past experiences and fears, all the way to hopes and dreams and everything in between!
Where do you draw your inspiration from?
It comes from anything, things that happened in the past, situations we have went in!
You name it, we writing it!
Carla has an amazing ability to write music about every single feeling she has!
How would you define the word "success"?
We haven't felt that yet to be honest! It's a long way ahead of us and we need to be focused and dedicated!
If we succeed along the way… most likely we will be the last to know!
Are you planning any Live Shows in 2022?
Absolutely! We aim to finish 2021 with about 10 shows (5 have been done already) and then build 2022!
We like being busy and travel so we will look to book as much as possible in 2022!
Are you writing new music now for a 2rd album?
The base for our 2nd album is almost done!
However, we would like to focus on the one that is out a lot more before we step in the 2nd! But there is a 2nd and we hope a 3rd and so on!
Is there something you like to add as we close?
We would like to thank you for your time!!
It is always a joy to chat with you and we can't wait to speak again soon!!
Thank you so much guys, all the best for your next steps