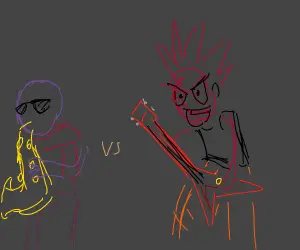 As a reviewer, I couldn't help it noticing the great deal of bands that are merging jazzy elements with Metal. From where I'm standing, this merge isn't by any chance new. In the 1970s, mostly, many bands wrote songs with a jazz taste. I wouldn't say this merge was a common thing, but it did happen. The 1960s and 1970s were the time for musical experimentation and merges of all sorts were pretty useful.
I strongly believe that rock and Metal are historical musical genres. I mean, when a kid listen to a modern Metal band, it's natural that he will look it up for more bands. A friend will give him some names, a relative some more, and certainly one of them will tell him about the good old bands. Metal is one of the musical genres where it is easily possible to trace genealogies – as Foucault defines the word.  Doing so he will start some kind of reversal engineering, or listening. Listening to old bands, this kid will learn where Metal came from and all the influences bands applied to it during the years. It's a healthy and natural thing.
The reason I'm writing this is because I also had the opportunity of interviewing some bands that actually are merging jazz with Metal. The problem is that none of them quoted the names of bands like Black Sabbath and Deep Purple, just to name a few. None quoted either the names of Mahavishnu Orchestra, Jeff Beck or John McLaughlin, jazz rock icons. Instead, the name that popped up constantly was Meshuggah. The problem is that Meshuggah didn't begin the merge. They only applied the influences they had from older bands.
To do justice to their names, here are some songs which show where Meshuggah came from. I'll begin with some jazz rock monsters as Mahavishnu Orchestra, Focus and the guitarist's guitarist Jeff Beck and then go to Deep Purple and Sabbath.
I wrote the album's names as well because I think it's interesting to listen to all their songs to get a more precise idea of what I'm talking about.
Mahavishnu Orchestra
Mahavishnu Orchestra were a multinational jazz rock fusion band formed in New York City in 1971 by English guitarist John McLaughlin. The group underwent several line-up changes throughout its history across two stints from 1971 to 1976 and 1984 to 1987.
From "Birds of Fire," we get "One Word":
Focus
Focus are a Dutch rock band formed in Amsterdam in 1969 by keyboardist, vocalist, and flautist Thijs van Leer. The band have undergone numerous formations, and changes of styles, in its history. Their most know songs are "Hocus Pocus" and "Sylvia."
From "Moving Waves," here is "Hocus Pocus":
Jeff Beck
He is one of the three noted guitarists to have played with The Yardbirds (the other two being Eric Clapton and Jimmy Page). Beck also formed The Jeff Beck Group and with Tim Bogert and Carmine Appice, he formed Beck, Bogart & Appice.
From his most outstanding album "Blow by Blow," here's "Cause We Ended As Lovers":
https://youtu.be/89OTZV-NHkU
Deep Purple
One of the most iconic merges of jazz with rock/Metal is from Deep Purple.
From "Machine Head," the world-known "Lazy":
Black Sabbath
Tony Iommy confessed many times that he is a jazz fan. Here are two songs from Black Sabbath where the jazzy vein is notable. By the way, Ozzy Osbourne's excuse from leaving the band was that it became too jazzy.
Jazz influences can be taken from their debut album "Black Sabbath," in songs like "The Warning":
The most jazzy Sabbath's album, the one which made Ozzy quit, "Never Say Die," here's "Breakout":