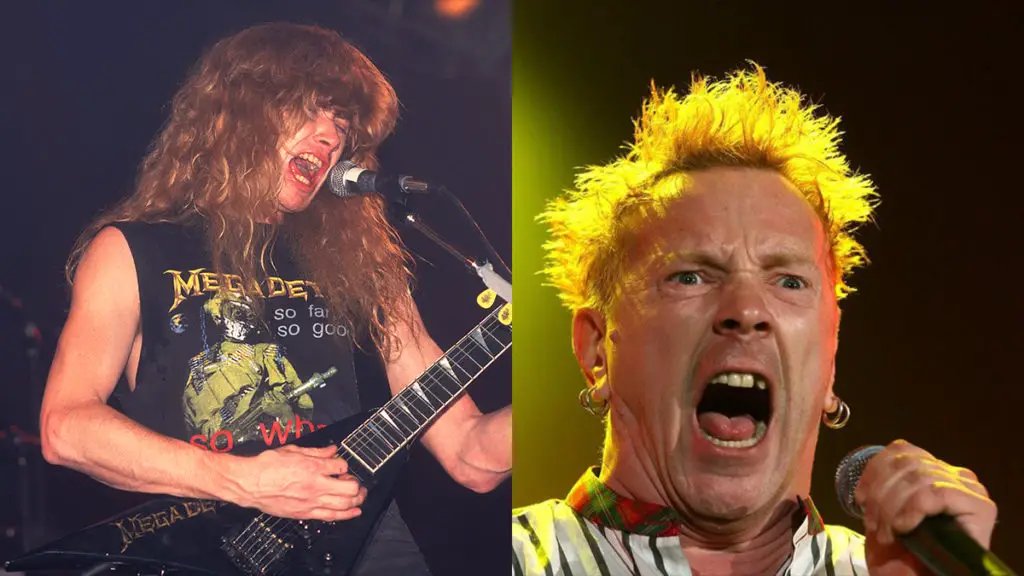 MEGADETH bassist David Ellefson talked about band's rendition of SEX PISTOLS classic "Anarchy in the UK" and how Johnny Rotten dismissed it as "bunch of rubbish."
MEGADETH's version of the track appeared on their third studio album, 1988's So Far, So Good… So What!.
"'Anarchy' is a funny song because — the PISTOLS were just my band, and it's funny — when Dave [Mustaine] and I chose to do 'Anarchy in the UK,' and then we actually got Steve Jones [SEX PISTOLS guitarist] to play on it. He rides in the studio on his Triumph motorcycle with his guitar in his back — he's got a broken arm, and he was newly sober, and we were not, so it's kind of this funny thing.
"Here we are, living the punk-rock lifestyle, and he's living the sober L.A. lifestyle which many musicians were, and I would become a couple of years later myself," he continued. But it was just such an honor to have him on the track with us. But you'd think we would have gone to the publisher and pulled the lyric sheet and had the proper lyrics — we didn't.
"We just took it off the record as it sounded," Ellefson added. "So we kind of befuddled the lyrics a little bit as they sounded cool to us so that's what Dave sang [Mustaine sang 'and other c*nt-like tendencies' instead of 'another council tenancy'].
"And then I remember reading an interview with Johnny Rotten and he was, 'Yeah, it was a bunch of rubbish…' And he totally just dismissed the track, which is like a knife to the heart. You want your heroes to go, 'Yeah, right on, big enough!' So it's funny, 'Anarchy,' I think we're probably a little hesitant to play it sometimes in the U.K. for that very reason. If we realize that as cool as it was over here in America, it maybe didn't have the same impact over there in the U.K."
You can listen to full interview below.