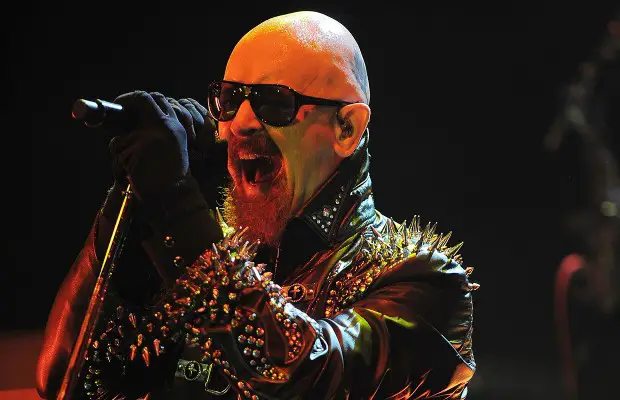 In a new interview with Rolling Stone magazine, JUDAS PRIEST singer Rob Halford revealed his top 10 favorite albums, and explained how they helped make him who he is.
Among the records included on the list are LED ZEPPELIN's debut LP (1969), QUEEN's Queen II (1974), THE BEATLES' A Hard Day's Night (1964), THE ROLLING STONES' Get Yer Ya-Ya's Out! (1970), DEEP PURPLE's Machine Head (1971), THE JIMI HENDRIX EXPERIENCE's Axis: Bold As Love (1967), David Bowie's The Rise And Fall Of Ziggy Stardust And The Spiders From Mars (1972) and CREAM's Disraeli Gears (1967).
Speaking about BLACK SABBATH's 1970 self-titled debut, Halford said: "They were local guys from the same neighborhood, the same neck of the woods as PRIEST. We literally grew up together, inventing this great music that we love and cherish so much called heavy-metal music.
"I chose the Black Sabbath album just because, like so many bands, your first one or two records really establish who you are as a band," Rob continued. "It's a bit like PRIEST with Rocka Rolla and Sad Wings Of Destiny. Sad Wings Of Destiny becomes the one we love so much because it becomes defining. With Black Sabbath, here was the first example of what heavy-metal music should sound like, just the texture, the tone, the structure of all of the material, Ozzy's very unique voice. It's just become a very important record in the discography of BLACK SABBATH."
On PANTERA's 1990 record Cowboys From Hell, Halford says: "PANTERA came about around the early nineties. They were together before then, but they suddenly started to crush with the impact of Cowboys From Hell. If you know your music and your rock and roll, great things happen at the start of every decade. So when I got an earful of Cowboys From Hell, I knew that this was going to be a shifter.
"This actual display of the style of music that these guys were playing was literally going to shake up the world, which it did. We all know so many beautiful things about the band, especially Dimebag [Darrell, guitar], who I think was the driving force behind that band. What everybody was doing was just a full-on assault and attack, which got even stronger and more potent as they moved on to Far Beyond Driven, Great Southern Trendkill, and all of those other great records later on. But this one, this first one, really does the business for me."
You can watch video of Halford discussing his favorite albums in the video below.