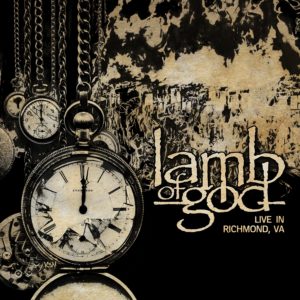 No, this review didn't come already written, but I already knew some things I'd like to write about the band. Not really about the album, because I had no idea about it and the band whatsoever. Yeah, you my fan knows that I'm always true and I confess to have never heard absolutely nothing from Lamb of God. No, not a peep. It's one of the new bands that I willingly ignored with blatant proud. As I said here before many times I don't like the 'cores' links into Metal. To be more especific Metalcore or New Metal or whatever. Ok, too wrong of me I know, but life is what life is. Moreover, if it weren't for my job here at Metal Addicts, I would remain with the same opinion unfortunately. Listening to this 'live' album changed the way I see the band for good. And that was really good.
My refuse to listen to those 'cores' bands is based on principles. I couldn't agree with the decision to not have guitar solos in the songs. To me guitar solos is the thing that defines Metal. A Metal song without a guitar solo is punk, if you ask me. No, it's not that I don't like punk – Well, to tell you the tryth not that much, but Hardcore makes my mind. In my mind punk got too commercial and way too accessible. The same problem here with the 'cores'. The were already born 'popular' with a too nice response from the press and media. It's a fact that the press had never had good eyes for Metal and this annoys me a lot. Why did the 'cores' receive this warm response? This burning question kept banging my mind. Still no answer.
So, when I received this promo I decided to give Randy Blythe's fold a chance. If there's so much fuzz on a band there's must be something really worth it. And there is. Ok, it's never too late for a change of hearts. This 'live' is really great and it gives a great view into the band's career. The fact of not having guitar solos in all tracks still bothers me a lot especially when I hear tracks as "Checkmate," "Routes," and "Ruin" that have guitar solos. Didn't they get so much better? I also feel obliged to give to Caesar what is Caesar's. Lamb of God have a special ability to build up sick and mesmerizing riffs that put the fan upside down. The hammering and pounding they deliver is, I guess, by such doing is one of the staplers of the band. Moreover, the way the riffing and the vocals fit is also something to pay an extra attention. They way Lamb of God do it gives extra aggression and wraith to their songs. It's like an extra dose of filthy that is injected into the vein of the songs and, therefore, to the fan.
By the way, I wrote 'live' because this album was recorded directly and live from their own studio in Richmond, VA. An idea to be praised in those so difficult days of Covid reign.
That's it, my child of the night. Enjoy and have a good change of hearts as I had.
Lamb Of God "Lamb Of God Live in Richmond, VA" will be released on March 26th via Nuclear Blast Records.
Track Listing:
Memento Mori (Live)
Checkmate (Live)
Gears (Live)
Reality Bath (Live)
New Colossal Hate (Live)
Resurrection Man (Live)
Poison Dream (Live)
Routes (Live)
Bloodshot Eyes (Live)
On the Hook (Live)
Contractor (Live)
Ruin (Live)
The Death of Us (Live)
512 (Live)
Ghost Shaped People
Hyperthermic – Accelerate
Watch "Memento Mori" official live video here: