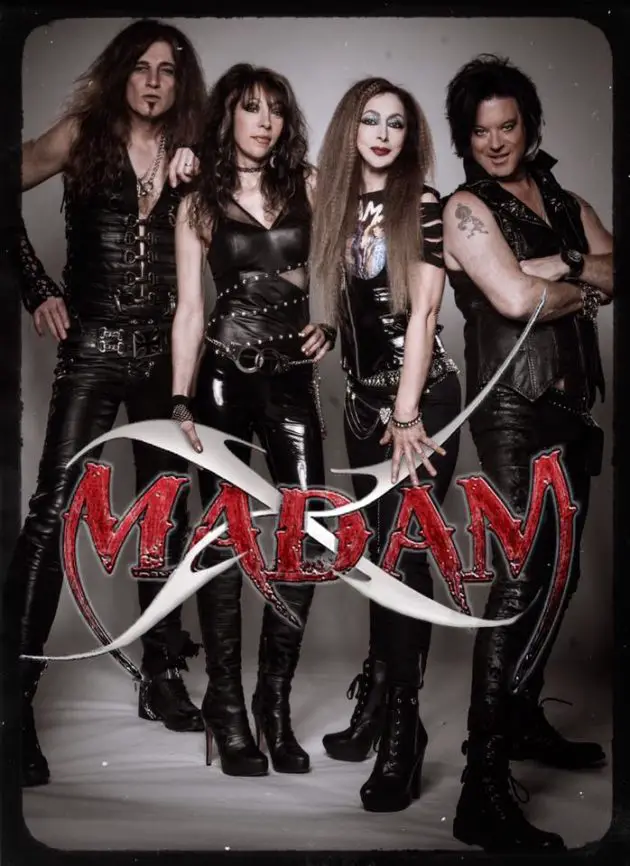 Legendary Detroit Hard Rockers MADAM X have signed a deal with EMP LABEL GROUP, who will release their long-awaited sophomore release MONSTROCITY on October 31st, (October 27th in EUROPE) on CD and Digital, with a limited edition vinyl release planned for November. Produced by Madam X at Metro 37 Studios in Rochester Hills, MI, and Mixed by Michael Wagener (MEGADETH, METALLICA, SKID ROW, OZZY OSBOURNE), with additional mixing by Mark Slaughter, Monstrocity is a hard-hitting classic Metal/Rock record sure to serve as a proper return to form for Madam X, and a kick in the ass for fans old and new.
Formed in 1981 by sisters Roxy and Maxine Petrucci, Madam X recruited bassist Chris "Godzilla" Doliber and vocalist Bret Kaiser, who released their classic, Rick Derringer produced, Jet Records debut "WE RESERVE THE RIGHT" in 1984, spawning the hit Rock single "High in High School". 4 years later, after Roxy departed to join future Arena Rock superstars VIXEN, and original vocalist Kaiser was briefly replaced by an unknown Canadian vocalist named Sebastian Bach, Madam X disbanded, and would remain mostly inactive until 2014, when the original lineup reunited at the Sweden Rock Festival.
Fast forward to 2017, when the Petrucci sisters collaborated with vocalist Mark Slaughter on a Lemmy Kilmister tribute track for their VIP AFTERSHOW project, Slaughter who introduced Roxy to EMP LABEL GROUP head of A&R Thom Hazaert, who released a 12" "KILMISTER" single for AFTERSHOW, and the conversation soon shifted to the upcoming MADAM X release.
Says Hazaert:
"When I connected with Roxy and we were working on The Aftershow stuff, and she told me they were working on a new MADAM X record, I was extremely excited at the prospect of releasing it. After a brief courtship, we made the decision to put it out together, and I can honestly say I'm still excited. Madam X is such a kickass Rock band, I was always a huge fan of their first record, and to be able to release its follow up over 30 years later is just insane."
Adds drummer Roxy Petrucci:
"Hell may not be pretty but good things will find their way out.!! It takes a huge pair of metal balls to sign a band like Madam X, David Ellefson and Thom Hazaert at EMP put their love of metal first, and crushed it by signing Madam X! Raw and flawed, Monstrocity will be unleashed onto the world in fall 2017! Long live Rock n Roll but immortalized in Metal!"
The album features 12 hard-hitting slabs of Rock, including the pummeling title track "Monstrocity," "Resurrection," "Nitrous," and an updated version of their 1984 hit "High In High School."